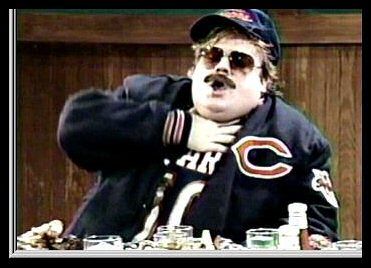 Just a week away from the Super Bowl, members of the Chicago Bears are
speaking out
on their team's underdog status.
Linebacker Brian Urlacher: "We're like the stepchild ... It's been like that all year for us. We like the underdog role. We've done well in it so far this season."
Center Olin Kreutz: "We have been the underdogs all year. We kind of relish that role. We will see what happens Sunday."
Coach Lovie Smith: "We are playing the Colts this week, and they have a lot of weapons, and I can see why we are in that underdog role. I have a harder time seeing how we've been in an underdog role all year with our record. We've met all the obstacles that have been put in front of us ..."
We see the well-crafted storyline, right? Repeat after me: The Bears don't mind being underdogs because it's been that way all year.
OK, fine, the Bears are seven-point dogs to the Colts this Sunday. Is it true, though, that they've been in this position all along?
I started picking games in the sixth week of the NFL season. Let's see how the oddsmakers felt about Chicago's chances:
Week 6:
Bears favored
by 10 1/2 @ Arizona.
Week 7: Bye week.
Week 8:
Bears favored
by 16 1/2 against San Francisco.
Week 9:
Bears favored
by 13 1/2 against Miami.
Week 10: Giants favored by one point over Bears @ New York.
Week 11:
Bears favored
by 7 @ New York Jets.
Week 12: Patriots favored by three over Bears @ New England.
Week 13:
Bears favored
by 9 against Minnesota.
Week 14:
Bears favored
by 6 1/2 @ St. Louis.
Week 15:
Bears favored
by 13 1/2 against Tampa Bay.
Week 16:
Bears favored
by 4 1/2 @ Detroit.
Week 17:
Bears favored
by 2 1/2 against Green Bay.
First playoff game:
Bears favored
by 8 1/2 against Seattle.
Second playoff game:
Bears favored
by 2 1/2 against New Orleans.
In the Bears' final 13 games, they were the underdog a grand total of
TWO
times - and never by more than a field goal. Both instances occurred when Chicago visited the home stadium of an eventual playoff team. In four games, Chicago was favored by double digits, a rare occurrence in these so-called parity-driven days of the NFL.
So Chicago: Shut up.
The "disrespect" card is one of the oldest, most overused, most obnoxious sports clichés, and that's just when it could be considered true. The Bears are playing it when they've been heavy favorites in almost every game. This team's whining is almost as embarrassing as their 1985 counterpart's "The Super Bowl Shuffle." And we all know how off-the-charts embarrassing
that
was.
Here's hoping the Colts make the Bears feel as persecuted as they imagine themselves to be.