It's my life's prevailing mystery. Each summer the questions arise again, and I am left with an unquenchable thirst. Solace only comes with the reminder my children will never suffer the same fate.
They will know who they've seen.
I remember my dad pointing out Pete Rose on an early '80s summer day, and images of Mike Schmidt and Ozzie Smith diving for balls remain etched in my gray matter. I never saw Michael Jordan, but I do remember being courtside to watch Kareem Abdul-Jabbar and Magic Johnson warm up for a game against the Atlanta Hawks. That's where it ends, though.
My father did a wonderful job, but there's one more thing I wish he'd done: I want to know what athletes I've seen in person. I want a program from each baseball, basketball and football game I went to in my youth. I want old box scores, and I want to know exactly which Hall of Famers I can tell my grandchildren I saw.
As I've entered my adulthood, I've tried to see all the big-name superstars I could. I've seen the Braves go up against Barry Bonds, Sammy Sosa, Alex Rodriguez, Randy Johnson, Pedro Martinez, Cal Ripken Jr., Todd Helton and Ken Griffey, Jr., among others. Problem is, I have been to so many Atlanta Braves games, they all tend to run together. Unlike the one of two Falcons games I see per season, I can't tell you any specifics of a game I saw in, say, 1988. So while I may have seen '80s greats like Tony Gwynn, Nolan Ryan or Johnny Bench play, I have no clue if I actually did.
So yes, my kids will have full box scores of every game they attend, with the hope they will someday be a 31-year-old and care enough to take a look through the stacks.
Like I said, though, my memory of Atlanta Falcons games are clearer, because they are fewer and farther between. So I decided to take a look at some old box scores, and see what legends I saw play in person. I've been to many more Falcons games than this, but these are the ones that stand out for some reason.
Houston Oilers at Atlanta Falcons, 9/23/84
- I remember this day because my dad knew John James, the Oilers punter. He had promised to take my brother and I down to the locker room after the game. That news was Christmas morning times ten to my 8-year-old ears. Sadly, the Oilers got skunked in the game, and James sent us a message: the players had decided to have a closed door meeting, thus no locker room tour. So yeah, the one time I get invited into a locker room, the hapless Falcons go out and trounce their opponent - something they
never
do. As for legends of the game, well, Warren Moon was the Oilers's quarterback that day. And to think, only 14 years later, he would sit next to me at The Gold Club.
Legends: Warren Moon

Los Angeles Raiders at Atlanta Falcons, 12/1/85
- I didn't mention any Atlanta legends above, primarily because they were scarce in those days. However, Steve Bartkowski was a damn good quarterback, something I'm reminded of by seeing Dave Archer's name here. Archer has come into his own as an announcer, but man, I was only nine years old and still not impressed. That didn't stop me from having my picture taken with him after the game, a shot I still have somewhere. Because get this: the Falcons were so unpopular in those days, they would tailgate in the parking lot after most of the fans cleared out. The picture is of my brother and I with Archer, him with one arm in a sling, and the other holding a beer. Ah, the good ol' days of professional athletics.
Legends: Marcus Allen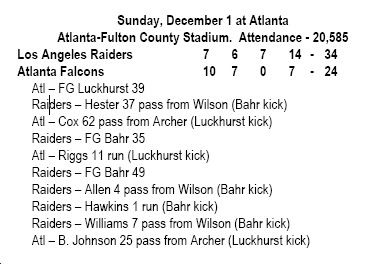 Chicago Bears at Atlanta Falcons, 11/16/86
- As I'm sure this was a hot ticket in '86, the year after Chicago's Super Bowl win, real credit goes to my dad for taking my brother and I. Truth is, we were much more excited about seeing Jim McMahon and William "The Refridgerator" Perry than the Falcons or even Walter Payton, but hey, I was 10. After the game, we stood outside the Chicago locker room, patiently waiting with autograph books in hand. The door flung open and McMahon sauntered out. Not breaking stride or making eye contact, he reached into a group of kids and scribbled his name in only one book: mine. Hells yeah.
Legends: Walter Payton, Richard Dent, Kevin Butler, Mike Singletary, coach Mike Ditka
St. Louis Cardinals at Atlanta Falcons, 9/14/86
- All I remember is my mom taking me to a Cardinals game at some point in the '80s, and after taking a quick look through the decade, this is the only game that fits that description. "Neil Lomax to Roy Green" doesn't exactly set the panties on fire, does it? It is cool to see Falcons RB William Andrews's name down there, though. I see him practically every morning these days, as he drops his wife off for work (she's just down the hall from me.)
Legends: William Andrews and, uh, Gerald Riggs?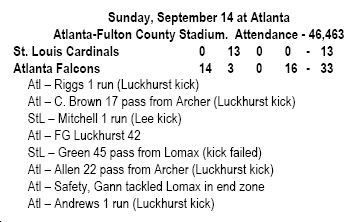 San Francisco 49ers at Atlanta Falcons,
11/9/92 - My buddy Chip was a Joe Montana fan of the tallest order, so I'm sure there was disappointment the Hall of Fame quarterback was hurt for this Monday Night Football contest. We were in the building, though - the still-new Georgia Dome, in fact. I don't remember many details of the game, but I do recall Danny Glover was on the 49ers sideline the entire time.
Legends: Steve Young, Jerry Rice, Joe Montana (on the bench), Ricky Watters, Deion Sanders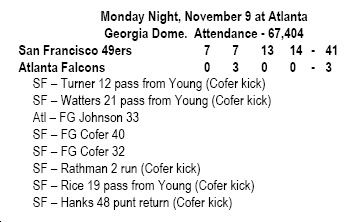 Miami Dolphins at Atlanta Falcons, 12/27/98
- The Super Bowl season, and only two weeks after I graduated from college. This was the last regular season game, and one that would put them at a regular season mark of 14-2 (unmatched before, unmatched since). And though the Falcons would go to the championship game, there was really only one legend on this field.
Legends: Dan Marino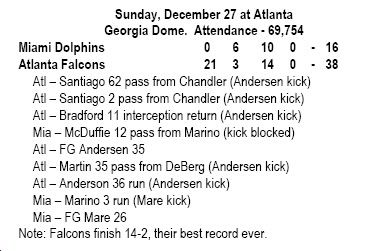 I've been to a lot of games since, but I hesitate to call guys like Shaun Alexander and Warren Sapp legends quite yet. I'll save that for a post in 2015.
3/2 update: Oh yeah, I just remembered one. I was in the Dome for the 1995 week one matchup between the Falcons and the Carolina Panthers - a somewhat memorable game because it was the first game of the Panthers's existence. A quick look at the box score shows nobody of true "legend" status except maybe Morten Andersen - unless your opinion of Kerry Collins is a bit inflated, of course.