Jim Thorpe, NFL President (1920-1921)
The football fan's obsession with college recruiting has always escaped me.
My Georgia Bulldogs are sacrosanct, and I attend damn near every game - but the players don't interest me until they suit up for Game 1. We signed a stud running back? Cool. We got some heralded QB? Nice. Please, though: stop forwarding me video edited by their high school coaches, telling me how many yards they ran for at Berkmar Middle, or thinking I'm interested in some website's analysis of their 40 speed.
I have enough trouble keeping track of college and pro players, and haven't paid attention to the Friday night lights for over a decade. Heck, the next high school game I watch will probably be my future son's first. Until they're wearing their respective college colors, I really don't care to know about the players.
The NFL draft, though: it's the second verse, but it ain't the same as the first.
I personally witnessed Calvin Johnson go 0-for-4 against the Dawgs (remember, only 71 yards in three years against UGA.) I've seen JaMarcus Russell's stuff up close. I've been in the building when LaRon Landry, Patrick Willis, Robert Meacham, Reggie Nelson, Jarvis Moss, Justin Harrell, Chris Houston, Dwayne Bowe, Arron Sears and Ben Grubbs have taken the field - and those are names projected by many to be called during the first round alone.
I know
these
guys.
The draft kicks off on Saturday at noon. Many things will change between now and then, which makes this - and all other mock drafts - fairly pointless.
Last year
, for instance, there was an absurd amount of draft day movement, and I only hit five out of 32 predictions on the head. So please, don't take these picks with you to the bookie.
And I'm sure, also like last year, it is filled with brilliant predictions like how the Texans would "bow to fan pressure and take (Reggie) Bush" and that the Titans would "go with Leinart over Young." But hey, I did say it would "make sense" for the Falcons to take D.J. Shockley with a late pick, proving that even a blind squirrel gets a nut sometimes.
Joseph Carr, NFL President (1921-1939)
1) Oakland Raiders - JaMarcus Russell, QB, LSU.
The year: 2006. The place: Oakland's draft room. The stupidity: Legion. "Well, we have the 8th pick in the draft. Seventy-year-old Aaron Brooks is our quarterback, and Matt Leinart and Jay Cutler are still on the board. So we'll select - strong safety Michael Huff!" So now it would appear, short of a trade for Trent Green or (
seriously?
) Josh McCown, Oakland has to address its quarterback needs this year. Don't you think, though, the Raiders are stewing about the possibility they could have had Leinart throwing to Calvin Johnson for the next decade?
2) Tampa Bay Buccaneers (via trade with Detroit) - Calvin Johnson, WR, Georgia Tech.
Detroit owns this pick, but let's not kid ourselves - they probably ain't gonna keep it. Johnson will likely be the selection here; it's just a matter of who will be making it. Tampa is my guess, as coach Jon Gruden is said to be breaking at least four deadly sins in his pursuit of the NWR (Nerd Wide Receiver). Atlanta, in particular, is playing this one very cool - they've put out whispers and feelers about grabbing this spot, but I don't believe they have any intention to. They just want to make their division rival (Tampa) give up too much for too little. That's right -
too little.
I mean, this guy is heralded as a well-mannered, more-talented version of Terrell Owens, but remember, this is Mr. "71 Yards In Three Years Against UGA" (I
love
that stat.) Blame those numbers on Tech QB Reggie Ball all you want, but who exactly will be throwing to him in Tampa? Chris Simms? A mummified Jeff Garcia? Congratulations are in order, though, to Johnson for jumping from my least favorite college team directly to my least favorite pro one. I hope he shatters both legs in the preseason.
3) Cleveland Browns - Brady Quinn, QB, Notre Dame.
And with the third pick in the 2007 NFL draft, the Cleveland Browns select - Ryan Leaf! Wait, too harsh? Then how about Heath Shuler? Jim Druckenmiller? Todd Marinovich? Dan McGwire? Or, perhaps most apropos, the Fighting Irish's own Rick Mirer (the second pick of 1993's draft)?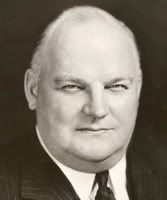 Carl Storck, NFL President (1939-1941)
4) Detroit Lions (via trade with Tampa Bay) - Gaines Adams, DE, Clemson.
And now Detroit gets the player they wanted all along, with a couple additional picks down the line thanks to Tampa Bay. Of course, since this scenario actually makes sense, one can bet GM Matt Millen will instead stay at #2 and draft a long-snapper.
5) Arizona Cardinals - Joe Thomas, OT, Wisconsin.
You won't catch me feeling sorry for Arizona QB Matt Leinart, but that boy had some bad timing. He would have been the clear #1 pick in 2005, and he would likely be the #1 pick this year - and he would have stayed in California each time. In the year he made himself eligible, though, he slipped to 10 and was banished to the desert. To make up a little for that, the Cards will put Thomas's big body in front of him for the next half-decade or so. Of course, Arizona could have resigned Leonard Davis and gotten back-of-the-future Adrian Peterson, but let's not quibble. I'm sure Edgerrin James will be good for another six-touchdown season.
6) Washington Redskins - Amobe Okoye, DT, Louisville.
Here's where I'll be grasping my beer mug tight. See, I want the Falcons to get LaRon Landry at pick #8. No trading up, and no getting Landry snatched just in front of you. Stay at #8, get the safety, Josh is happy. The Redskins are in dire straits, though, and any amount of things can happen here. See, Washington wants to go up
and
down - owner/asshat extraordinaire Dan Snyder wants Calvin Johnson, but also wants another pick before the fifth round (which he doesn't currently have.) There's also rumblings, though, they could stay here and take, you guessed it, Landry. Best case scenario is Washington moves down, giving this spot to somebody interested in RB Adrian Peterson. Problem, though: potential RB-needy trading partners include Minnesota (picking in the very next slot), Houston (which doesn't have a second round pick to trade) and Buffalo (which is probably focusing a bit more on linebacker.) But maybe, just maybe, Washington realizes their most glaring weakness is defensive line and makes the right call.
Elmer Layden, NFL Commissioner (1941-1946)
7) Minnesota Vikings - Adrian Peterson, RB, Oklahoma.
Ask yourself one question, Vikings fans: Is Chester Taylor a long-term answer in Minnesota? Well, there ya go.
Don't pick Landry, don't pick Landry, don't pick Landry ...
8) Atlanta Falcons - LaRon Landry, S, LSU.
The quickest way new coach Bobby Petrino can piss me off is if he turns into Steve Spurrier. What I mean is that he needs to avoid an overabundance of loyalty to his college players. 1) Don't release D.J. Shockley in favor of Louisville product Chris Redman - my own overabundance of loyalty aside, Shockley will definitely help you more in years to come. 3) Don't draft Michael Bush before the third round (
at least
). 3) And good God, don't trade up to get Okoye if you can grab Landry here. Landry is the next Ed Reed. Landry will anchor the Falcons' secondary and do it very well. Landry is a 4-year SEC starter who is ready to play
yesterday
. Landry fits so many more needs than Okoye, even with the departure of Patrick Kerney.
9) Miami Dolphins - Levi Brown, OT, Penn State.
The Dolphins are another team likely on the move, especially if Brady Quinn falls past Cleveland. If I'm interested in a quarterback, though, I worry about the porous offensive line and take a look at Stanford's Trent Edwards or Michigan State's Drew Stanton in Round 2.
10) Houston Texans - Leon Hall, CB, Michigan.
The Texans are desperate for a cornerback, and Hall is the top-rated one on most boards. I do hope, though, that Matt Schaub likes spending time getting sandwiched by large men and ending up on his back. Wait, did that sound gay?
11) San Francisco 49ers - Alan Branch, DT, Michigan.
Can't think of a thing to say. Hey, stop celebrating.
Bert Bell, NFL Commissioner (1946-1959)
12) Buffalo Bills - Patrick Willis, ILB, Mississippi.
13) St. Louis Rams - Jamaal Anderson, DE, Arkansas.
14) Carolina Panthers - Greg Olsen, TE, Miami.
We know all about those Miami tight ends, don't we? Remember, they's
soljuhs
!
Soljuhs
! And hey, if Olsen is anything like Kellen Winslow, maybe he'll play in a full game by 2012. Good for the Falcons, I guess.
15) Pittsburgh Steelers - Paul Posluszny, LB, Penn State.
The name just screams "Pittsburgh Steelers." Other than that, I don't need to know a damn thing about the guy.
16) Green Bay Packers - Marshawn Lynch, RB, California.
The departure of Ahman Green leaves a huge hole at running back (even though you could claim Green departed far earlier than that.) Of course, you might think Vernand Morency is the long-term answer, in which case you should take a tack hammer to the forehead. If I were running the Green Bay show, though, I'd do damn near anything to move up for Adrian Peterson.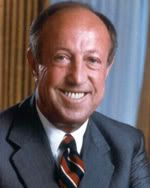 Austin Gunsel, NFL Interim President (1959-1960)
17) Jacksonville Jaguars - Reggie Nelson, S, Florida.
Oh, that's cute - the ex-Gator gets to stay in Florida.
18) Cincinnati Bengals - Adam Carriker, DE, Nebraska.
19) Tennessee Titans - Ted Ginn Jr., WR, Ohio State.
"Young to Ginn." Get used to hearing that.
20) New York Giants - Lawrence Timmons, OLB, Florida State.
Lawrence T.? It just fits.
Pete Rozelle, NFL Commissioner (1960-1989)
21) Denver Broncos - Jarvis Moss, DE/OLB, Florida.
Free agency was dedicated to the offense, so Denver's focus on draft day will be Big D. And yes, it's freaking mind-boggling that there will be another top-flight player named Moss in the league.
22) Dallas Cowboys - Dwayne Bowe, WR, LSU.
"Well I got news for you
Dwayne
, from up here it doesn't look like you're in charge of jack shit!" Oh, sorry - just gotta fit in a
Die Hard
reference wherever I can. Anyway, the 'Boys already have a heck of a receiver duo with Terry Glenn and Terrell Owens. It's just that, combined, they are 171 years old. Or as John McClane says, "Now I know what a TV dinner feels like." Alright, that doesn't make sense, but like I said, gotta fit it in wherever I can.
23) Kansas City Chiefs - Joe Staley, OT, Central Michigan.
There's nobody in
Die Hard
named Joe, dammit.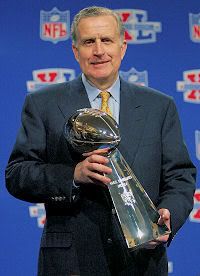 Paul Tagliabue, NFL Commissioner (1989-2006)
24) New England Patriots - Darrelle Revis, CB, Pittsburgh.
Nothing personal against Revis at all, but I hope all Patriots draft picks catch smallpox and die within the month. Seriously, though, nothing personal.
25) New York Jets - Aaron Ross, CB, Texas.
Ross immediately fills a hole at corner, and gives the Jets another kick-return option alongside Justin Miller.
26) Philadelphia Eagles - Chris Houston, CB, Arkansas.
Corner isn't a huge need for the Eagles, but Houston's talent may be too difficult to ignore. There, did that seem like a generic enough comment for you?
27) New Orleans Saints - Justin Harrell, DT, Tennessee.
The Saints would want to eat a bullet if the draft shakes down like this. They want a cornerback, and have likely targeted the three guys that came off the board just before their selection. Translation: Don't be surprised if New Orleans trades up.
28) New England Patriots - Jon Beason, LB, Miami.
Please refer to Pick #24.
Roger Goodell, NFL Commissioner (2006-present)
29) Baltimore Ravens - Ben Grubbs, G, Auburn.
Point to be made in the following pick ...
30) San Diego Chargers - Robert Meachem, WR, Tennessee.
Yet another SEC player potentially makes it in the first round. But no, you're right - the Big 10 is
sooo
much more talented. That looks like 11 out of the first 30 in this mock draft from God's country - perhaps Georgia's Charles Johnson can make it an even dozen.
31) Chicago Bears - Dwayne Jarrett, WR, USC.
And Jarrett is officially lost into the Void of Grossmann.
32) Indianapolis Colts - Anthony Spencer, DE, Purdue.
Talk all ya' want about pick #1, but this is really the choicest slot - because if you're here, chances are you're the reigning champ.