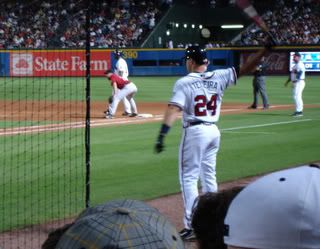 Click for bigger Tex goodness.
Oh, the joy sports can bring.
A motley crew made up of The Girl, The Siblings and myself trekked to Turner Field last night to see Mark Teixeira's first game in a Braves uniform.
By the sixth inning, thanks to some primo usher flirting by The Sister, we ended up five rows behind home plate; just absurd seats, really. And just a few batters after we sit down, not only do we see Teixeira's first hit as a Brave, we see his first home run as a Brave. (Thanks to The Girl for the above photo, taken a mere minute before said home run. Even better for her to get my new company's logo so prominently in the shot.)
If he weren't a former
Nerd
, I'd be running out for a #24 jersey today. We gotta have our standards, though.