We just can't focus on the NFL this week here at M.A.I. headquarters. With the college football season wrapping up, there are obviously important decisions to be made. And all of them are based around one thing: where the hell the Georgia Bulldogs are playing their bowl game.
There are tickets to be procured, both game and plane. Hotel reservations to be made. Liquor stores to be robbed to pay for it. And, you know, Christmas 'n shit.
If
only
somebody
would
try
to
predict
what
is
going
to
happen
...
The picks:
Atlanta @ St. Louis (-3 1/2).
So my loving, supportive girlfriend has joined the bandwagon of
beating me down for my Falcons allegiance
. Fine, whatever. But know this: St. Louis is lining up Gus Frerotte behind center this week, so - hey! Oh, fine, turn away. Pretend not to care. But know, this:
PICK: Atlanta
Buffalo @ Washington (-6). So will the Redskins come out like Brett Favre after his father died, and lay down a 34-point victory in memory of Sean Taylor? Or will they come out like San Francisco coach Bill Nolan did after his father died this year, and get slammed to the tune of 24-0? I smell more 49er than Favre in the Redskin Stew this year. PICK: BuffaloDetroit @ Minnesota (-4).
Well,
this article
has already won the contest for Best Lead of 2007
.
Thousands of Sudanese, many armed with clubs and knives, rallied Friday in a central square and demanded the execution of a British teacher convicted of insulting Islam for allowing her students to name a teddy bear "Muhammad."
Boy, I sure do love the peaceful, serene religion of Islam!
PICK: MinnesotaHouston @ Tennessee
(-4).
I have just named every one of my pubic hairs Muhammad.

PICK: TennesseeJacksonville @ Indianapolis (-7). PICK: IndianapolisNY Jets @ Miami (-1).
Yes, you read that right. The NY Jets are actually dogs to the winless Dolphins. And as much as I love to see that surely embarrassing fact, I think it will only serve to gear up New York for an impending beatdown.
PICK: NY JetsSan Diego (-6 1/2) @ Kansas City. PICK: San DiegoSeattle @ Philadelphia (-3).
PICK: PhiladelphiaSan Francisco @ Carolina (-3)
. If the Panthers lose here, they could be tied with the Falcons for worst in the NFC South.
That's
how bad their season has been. Tied with the Falcons. Yowza.
PICK: San Francisco

Cleveland (-1) @ Arizona.
PICK: ClevelandDenver (-3 1/2) @ Oakland. PICK: DenverTampa Bay @ New Orleans (-3 1/2).
The NFC South could be decided in large part here. Between a truly bad 7-4 Bucs team, and a 5-6 Saints squad. Man, the Falcons sure picked a winner of a year to suck.
PICK: New Orleans
NY Giants (-2) @ Chicago
.
For all the hype and discussion about the Eli Manning/Philip Rivers draft day trade, the result has been a little anti-climactic. It's like arguing over which movie to see when the only choices are
Chairman of the Board
and
From Justin to Kelly
.
PICK: Chicago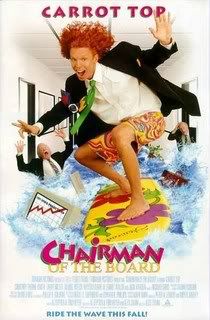 A visual aid in case you weren't familiar with the film I mentioned. Bless you if you aren't.
Cincinnati @ Pittsburgh (-7)
.
Speaking of Kelly Clarkson, you are now reading the words of the oldest male in the audience at her Tuesday night concert. The tickets were birthday presents for The Girl. And yet she still hasn't watched
Die Hard
with me after a year-and-a-half.
PICK: CincinnatiNew England (-21) @ Baltimore.
I love the Patriots pick here. Love it. They are humiliated by
almost
losing, and Randy Moss is insanely pissed at seeing Terrell Owens break the TDs-in-straight-games-for-a-WR record last night. The Ravens are 'bout to get punked.
PICK: New England
Thursday night: 0-1
Last week: 5-9-2Overall: 86-79-9Fake wagering total ($100 on every game, 10% juice on losses): down $90