The safest, 100%, surest-lock bet of last week came through with a vengeance, and you were handsomely paid if you followed its lead. And it was easy to figure: whenever I take seven paragraphs to extol my wagering greatness, I'm about to have a King Turd of a week.
5-9-2, baby.
Anyway, I'm headed out of town in just about, oh, five minutes, so the picks are brief. I hope you can live with that in peace. Just don't cut yourselves. That's not cool.
(I will, however, show you one of the greatest movie posters of all time).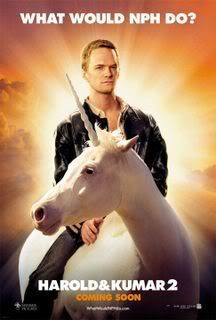 Click for bigger NPH.
Green Bay (-3 1/2) @ Detroit.
I want to take Detroit, who has always played well on Thanksgiving Day even in their leaner years, but I can't go against The Favre.
PICK: Green Bay
NY Jets @ Dallas (-14).

PICK: DallasIndianapolis (-11 1/2) @ Atlanta. Joey Harrington has been named the starter, so it looks like I won't have to kill Bobby Petrino - yet. But I can't remember despising an Atlanta sports figure so much, especially in so short a time. Stanicek says, "
Give the guy a break man - I'm pretty sure you were the only living, breathing human being who actually believed the Falcons would be any better than 4-12 or 5-11 this year - give him another year before you make terroristic threats upon him and his family
." I think Stanicek is soft.
PICK: AtlantaBuffalo @ Jacksonville
(-7 1/2).
I'll be in Jacksonville for Thanksgiving, and if I didn't have to come back early for the Georgia/Georgia Tech game, I'd make it a point to attend this one. And wouldn't The Girl be happy with that, to be able to see a stellar NFL matchup like BUFFALO VERSUS JACKSONVILLE.

PICK: BuffaloHouston @ Cleveland (-3 1/2). PICK: ClevelandOakland @ Kansas City (-5 1/2). PICK: Kansas CitySeattle (-3) @ St. Louis. PICK: St. LouisMinnesota @ NY Giants (-7). PICK: NY GiantsWashington @ Tampa Bay (-3)
.
PICK: Washington

New Orleans (-3) @ Carolina.
PICK: New OrleansTennessee @ Cincinnati (PICK). PICK: TennesseeSan Francisco @ Arizona (-10 1/2).
The Cardinals are favored by double digits, and I'm still picking them. And it's damn near safe to say the 49ers will end up in the second spot in the draft - too bad the
fucking Patriots
own San Fran's first round pick. So because of their spying controversy, they lost
their
first round draft pick, but will still have one of the top two overall. I fucking hate those assholes.
PICK: Arizona
Baltimore @ San Diego (-9 1/2)
.
PICK: San Diego
Denver @ Chicago (-2 1/2)
.
PICK: ChicagoPhiladelphia @ New England (-22).
Good lord. Philadelphia doesn't even have a losing record. And yet, the spread is too small.
PICK: New England
Miami @ Pittsburgh (-16).
Pffft, I'm only impressed when teams are favored by over 20.
PICK: Miami

Last week: 5-9-2Overall: 79-69-9Fake wagering total ($100 on every game, 10% juice on losses): up $310