A year ago, I celebrated Georgia's sixth straight victory over Georgia Tech with
a little photo montage
, which I still consider among my best work ever. It was damn near artsy, I think.
The spread - the
masterwork
- culminated with a shot of me inside Sanford Stadium, relishing the win from one row behind Tech's band. Life was sweet.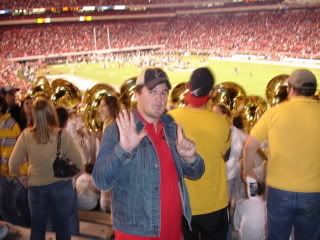 Yes, I was wearing a Falcons hat. My head is enormous, and I have to take what I can get.
On Saturday night, however, the game shifted to Tech's - er, stadium? field? hobo port-o-let? - and tickets were a lot harder to come by. In fact, in my 13 years regularly attending UGA games, I've never seen so few tickets to be had. I walked around five hours before kickoff, two hours before kickoff, and 10 minutes
after
kickoff, and even the scalpers were empty-handed.
So Victory #7 was enjoyed from the tailgate.
A big thanks to The Girl for her stellar camerawork on both occasions.