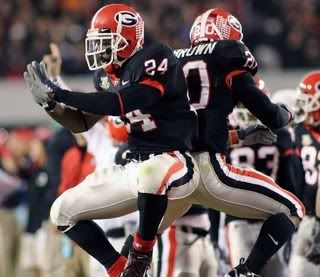 Image courtesy of Jim Hipple by way of Georgia Sports Blog

Well,
that
was fun.
I usually stay away from writing about college football, and particularly the Georgia Bulldogs, if only because
others
do
it
far
better
. I just don't have the memory or the attention span to compile the knowledge those guys have, so I leave it to 'em with happiness.
Circumstances compel me, however, to opine on the 2007 University of Georgia season, as it has somewhat rapidly made a turn for the ass-kickin'. And it's all thanks to one man.
Dark Richt.
I've never warmed to coach Mark Richt as much as my Georgia brethren. In my eyes, he's often been given a free pass because of his nice guy-demeanor and his religious faith. Listening to a call-in show, I can literally hold my breath between utterances of "good Christian," and every time I overdramatically roll my eyes and groan. (It's doing the little things that make me happy.)
Now please don't mistake this for an anti-Christian bias. To each their own and all that. It's just that I've longed for Richt to break out of that Bible Belt-mentality on occasion. Just like "politician," I just don't think a strict religious faith necessarily suits "football coach" well.
See, I want the asshole as my coach. I've always wanted the asshole as my coach. I want a guy with the bile-soaked breath who doesn't flinch at running up a score or ordering a retaliatory hit. I want a guy who is good
because
he is devious, and grins whenever he's called on it. I want a guy who will drop an F-bomb to referees, and in the occasional press conference. I don't want a guy whose
testimony is online
, unless it's a testimony regarding Judas Priest, Ty Cobb or Hitler.
(As a side note, I admit I've always liked Steve Spurrier because he is damn near every one of those things, except he probably thought Hitler was soft. The difference between he and that fuckass Bill Belichick is that Spurrier enjoys his evil ways, while Belichick is a self-important, dick-serious douchehat. My kind of asshole outwardly enjoy their assholatry.)
Mark Richt, obviously, has never fit that mold. He's known for his calm demeanor, G-rated tongue and,
51-7
aside, Georgia certainly isn't famous for running up scores. I always supported the man - I can't
not
support anyone with an undefeated record against Georgia Tech - but I've never pushed my chips in all the way.
Until now.
I'm not going to waste your time chroncling the recent turn of events in the UGA program. If you're reading this, you're quite familiar. It's been all over the local news and, shockingly, getting a lot of play in the national media as well.
Safe to say, though, I'm thrilled with the Dark Richt era.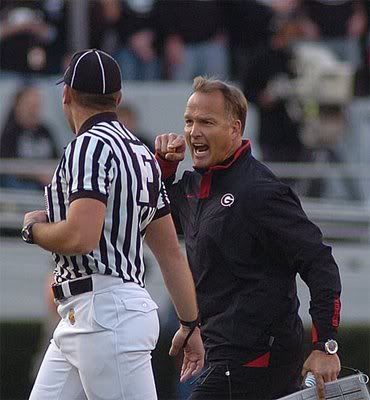 Look at that picture. I mean, I attend damn near every Georgia home game and at least a couple of away contests every year, and I've never seen that before. And I'm not the only one: I believe it was taken as Richt was walking off the field at halftime, because my 300-level section went crazy. "Look at Coach!" one guy yelled behind me. The cheers at that moment rivaled any touchdown we scored before or after. Richt was showing his emotion - a true rarity - and we were right there with him.
He's not a Spurrier, hell no. But he may have done better: he seems to have found a niche that allows him to be true to himself
and
to have a little devilish fun at the same time. It's a blend that's working, for damn sure, and it's something that all Georgia fans should be able to get behind.
I've followed, analyzed, breathed this program since my freshman year in 1994, and I can assuredly say it has never been more fun to be a Georgia Bulldog than right now. The team has been better, yeah, but I don't remember a Monday afternoon when I've pleaded with the calendar more to speed up five days - and that's for a Kentucky game, mind you.
Dark Richt, I don't know where you've been, but I hope you don't go anywhere for a long, long time.
Go Dawgs.