In September, I took a new job in Conyers, GA.
It's a good job. It would have to be a good job, because I don't live anywhere close to Conyers. Forty-five minutes as the speed limit travels. But, like I said, a good job. Worth it.
I pull out each morning at 7:15, and my mind slips into "sleep mode" fairly quickly. You know it - driving becomes an unconscious act, and the assorted turns are made in what can best be described as a robotic fashion. You put just as much thought into this process as you do taking your next breath.
Or at least I do. Maybe that was the problem.
It's pouring in Atlanta today. Good, right? Drought and all that. Well this was the view out of the front of my car at about 7:25 a.m. today. Ten minutes after I left home.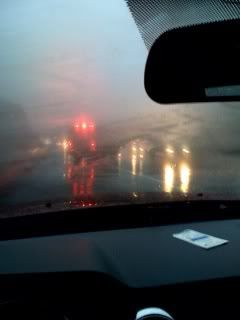 It's a little hazy, so let me point out what you should be looking at. The headlights on the highway. Coming
toward
my car. And the ambulance. That's the other car facing the wrong way.
Yes, at 7:25, I was driving on I-285 South, in sleep mode. And then I hit the lake, or at least something that felt like one. The car shook like a dog drying itself, and then proceeded to spin. Across one lane. Then another, and then another. I want to say it made only a 180 across the highway, though a 540 isn't out of the question. At that point, I wasn't counting.
The car continued to careen until a wall - on the complete other side of the highway - stopped it. (On the other side of the foot-think cement was a 50-foot drop to train tracks, so I send my thanks to the builders for fashioning such a sturdy barrier).
And now my car looks like this.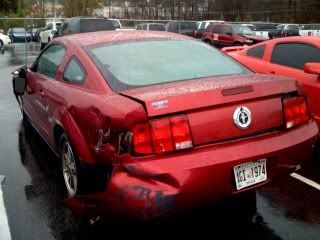 And this.
And this.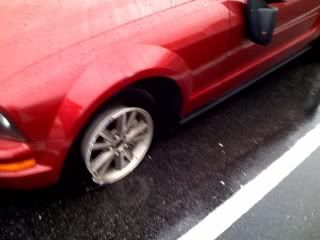 My body, on the other hand, is perfect. Well, at least as perfect as it was before, with the high blood pressure and excess 50 pounds still here.
I walked away from the accident, and I somewhat miraculously missed every other car on the highway during my out-of-control spin. Not sure how it happened, but again, I am thankful.
Oh, and the only person to stop and check to see if I was OK? A young black guy who would have made me nervous had we been in an ATM line. He pulled over - in pouring rain, remember - to see if he could help. Racism takes a knee to the balls today.
Now the car is in State Farm's hands, and we'll definitely be taking The Girl's vehicle to New Orleans on Sunday. I'm just glad I can make the trip.
The picks, just 'cuz:
New England (-14) @ NY Giants. PICK: New England
Buffalo @ Philadelphia (-7 1/2).
PICK: PhiladelphiaCarolina (-3) @ Tampa Bay
.
PICK: CarolinaCincinnati (-3) @ Miami. PICK: Miami
Detroit
@ Green Bay (-4 1/2).
PICK: Green BayJacksonville @ Houston (-6 1/2). PICK: JacksonvilleNew Orleans (-2) @ Chicago. PICK: Chicago
Seattle
@ Atlanta (-1 1/2)
.
PICK: Atlanta
San Francisco @ Cleveland (-10).
PICK: ClevelandDallas @ Washington (-9 1/2). PICK: Dallas
Pittsburgh
(-3 1/2) @ Baltimore. PICK: Pittsburgh

Minnesota (-3)
@ Denver
.
PICK: Minnesota

San Diego (-9)
@
Oakland.
PICK: San Diego
St. Louis
@ Arizona (-6).
PICK: St. Louis
Kansas City
@ NY Jets (-6).
PICK: Kansas City
Tennessee (-6 1/2) @ Indianapolis. PICK: Indianapolis

Last week: 7-8-1

Overall:106-120-10
Fake wagering total ($100 on every game, 10% juice on losses): down $2,710