Coach Bobby Petrino has quit on the Atlanta Falcons to take the head gig at the University of Arkansas.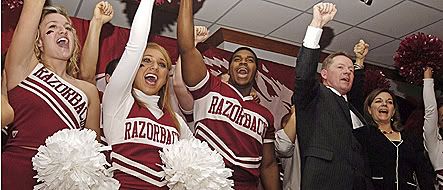 "Raise your hand if you're a sniveling rat-faced asshole! Really, all of you? I was just talking about Bobb... alright, then."
To which I say: "There's a party in my pants, and everybody is invited!"
As I
said just after Petrino's hire
: "It's just, well, history ain't on the Falcons' side here." Of course, not really anything has been on the Falcons' side this year, but Petrino has made sure his NFL head-coaching career amounts to no more than an asterisk. (I also said "Vick is the test" regarding Petrino's tenure, and turned out to be correct in a much different way than I intended.)
Looking back, I was initially higher on Petrino than when the season started. And I soured on him more with each passing day, eventually texting and e-mailing any little glimmer of a rumor I could find ("Miles to Michigan, Tuberville to LSU, Petrino to Auburn!"). His treatment of Joey Harrington, in particular, was especially galling. The guy was an asshole, which is fine if you're winning, but not so much when you're 3-10.
So he's gone. And good riddance, quitter. I can think of no better punishment than to have to deal with the Arkansas fanbase, in particular a legitimately psychotic group of player parents. They run their program like a 12-year-old's soccer league up there, so enjoy ("My little Johnny isn't playing enough, and you know, we can find a coach who better recognizes his talents!").
The obvious question: Who's up? And while I would love to see Morten Andersen be named the interim coach the rest of the year, let's look into 2008. A quick gander:
Yes
Bill Cowher, former Pittsburgh coach (a guy can dream)
Jason Garrett, Dallas offensive coordinator
Marty Schottenheimer
No
Any coach currently in the college ranks (this means Sylvester Croom, Kirk Ferentz, Jeff Tedford or even a whisper of Click-Clack)
Chan Gailey, nerd castaway
Steve Mariucci
Mike Martz (seriously, if you're down to this retard, make me the hire)
If I had to put a prediction down on pixels, though, I'm thinking current 49ers defensive coordinator Mike Singletary will be the hire. Young, proven, a big name, and - and this is important for the Atlanta franchise - black. You want to reenergize the large black fanbase that deserted you over the Vick thing? Especially with an in-all-likelihood white quarterback next year? Done and mostly done.
Oh, and take Darren McFadden with the first draft pick. We giveth to Arkansas, we also taketh away. And if he isn't available, go with the best O-lineman on the board. A quarterback can be found in the second round or, of course,
already on the roster
.