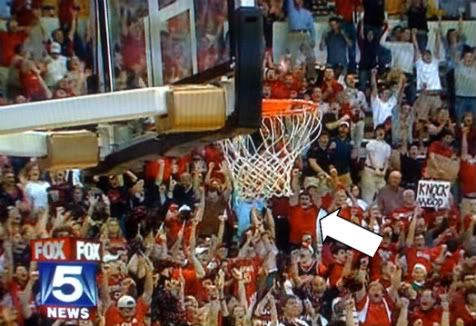 Now that is one sexy-ass fan.
"Thank God we're not a basketball school. I couldn't take this every year."
That was my brother, with 90 seconds left in Georgia's epic journey through the 2008 SEC Tournament. And I couldn't agree more. That was rough. Football allows you rest, moments to let your mind wander. As there are so few basketball games I really care about, though, I just wasn't prepared.
We were at center court, 15 rows back, having put to use the old phrase "It's not
what
you know, it's
who
you know."
We knew Lu, frequent M.A.I. commenter, and employee of a certain media outlet covering the game. A late-night text message on Saturday had shamelessly begged for access to the not-open-to-the-public game, and 12 hours later my name was at Will Call.
The details of the UGA-Arkansas matchup
have been well documented
, but allow me to give you a peek into what undoubtedly will remain the weirdest sporting event of my life.
First, it was Georgia playing in the SEC Championship Game. Anybody who followed the 2008 Dawgs - and I admit, I did infrequently at best - knew that was strange enough. But consider these details, which would have been literally unbelievable without a lot of further explanation: it was only half-full, it was at Georgia Tech, it was not open to the general public. Surreal was a word tossed around by many.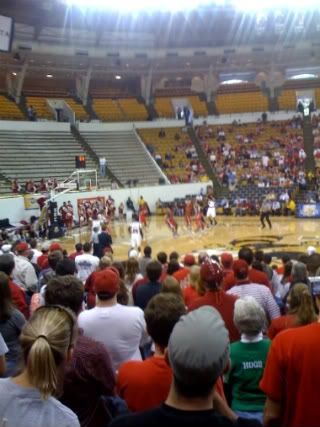 This is

during

the SEC Championship Game, not 30 minutes before.
UGA president Michael Adams and athletic director Damon Evans sat 10 rows
behind
me, mixed in with the crowd. The lines for the bathroom at halftime were - well, there were no lines. What was supposed to be an assembly made up largely of players' families was awfully white.
Oh, and Georgia won. The most shocking development of all.
A few observations:
Before the game, I went into the bathroom to find Damon Evans washing his hands. Standing two feet behind him was a guy dressed head-to-toe in UGA garb, pleading on coach Dennis Felton's behalf. "I mean, come on, Damon. He deserves to be here next year after this run. This has been amazing, you can't fire him!" Evans kept washing his hands, mumbling responses like, "Yes, it has been exciting, mm-hmm," but the guy just kept going. Stuff like that reminds you why guys like Evans deserve the big paychecks.


Some of you are going to

hate

to hear this, but apparently the guy at Georgia's Will Call window was giving tickets out to anybody who asked for them. A coworker, whose name was on the list due to his dance team daughter, asked for four extra and got 'em no questions asked.


President Adams held one of his infant grandchildren most of the game, in a transparent attempt to avoid verbal assault. From my vantage point, it appeared to work.


The football team was unrepresented, as far as I could see.


The team stayed on the court almost an hour after the game, as they played the NCAA Selection Show on the big screen. The security guards kept the crowd in the stands, but it oddly felt like an intimate affair. Like I said, surreal.


I owe Lu big. Any insurance advice you need, man - 15% off.