Look no further for evidence I should never, ever, ever,
ever
play softball again.
To recap,
this happens to me
in one of our first games of the season:
And now, tonight, in the final doubleheader to determine league champion - I decide to slide under a tag at home plate.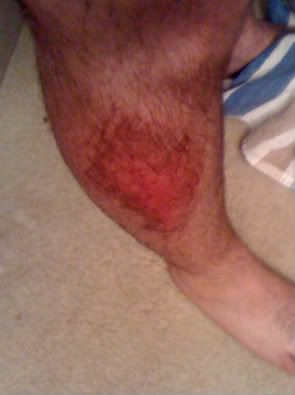 I think I see the Virgin Mary in there. Or Jon Benet Ramsey.
And that's the G-rated shot, sans blood and dirt. Another one of those beauties is creeping onto my ass ($5 will get you the whole set). Additionally, it hurts a whole f'in lot worse than the cut on my head.
Now, it should be pointed out, I was safe. Gloriously so, Sid Bream-style, right under the tag. And we went on to sweep the two games, meaning the creatively titled Black Team is now undisputed world champion of Briarlake Baptist Men's Softball. I just wish stepping into the shower ten minutes ago hadn't made me scream like a pissed off Joe Pesci. That sort of sucked.
Just remember, though: it's the personal sacrifices that get things done, my friends. Represent, bitches.
Now I'm going to try and get some sleep. Carefully. On my back. Without crying. I think.