I got sent home from work today.
The cold I've been fighting for a few days was still lingering, and it was one 7:15 a.m. coughing fit that triggered my boss's evacuation order. He'd rather have one contagious person miss one day than eight people miss three days, I guess. Makes sense.
So woo-hoo, three-day weekend!
Of course, I really am sick, so it's not all wine and wine coolers. But instead of being a lump, I tried to be as productive as possible. So I watched a movie (
Before the Devil Knows You're Dead
- two thumbs up), two Braves games (double header), and - OK, I wasn't
that
productive. But I did clean out my closet.
And I found this: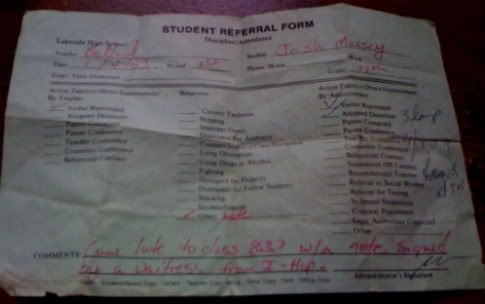 January 4th, 1993. Junior year of high school.
I had met a few friends at IHOP before school started, and our Rooty Tooty Fresh and Fruitys lasted us well into first period. Well, being the sharp wit that I am, I had our waitress write us a note. And ol' Coach Bill Ballard - now the decorated coach of Tucker High- apparently wasn't on the same humor wavelength. Thankfully, though, his referral form comments were unnecessarily descriptive.
Three days of detention was a little harsh, no?