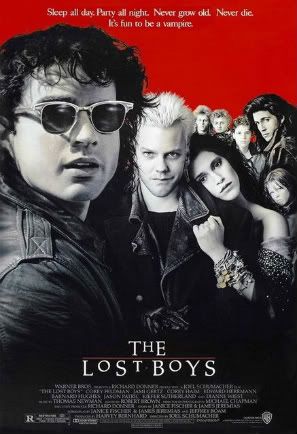 In 5th grade, I made a deal with my mom: if she let me see
The
Lost Boys
in the theaters (rated R!), I wouldn't watch TV for a month. It ended up being worth every non-"ALF" second.
Twenty-one years later, and it may be time for another deal. July brings us
The Lost Boys: The Tribe
, starring Corey Feldman, the "O.C." chick who ended up marrying Ryan, and Kiefer Sutherland. (I might be wrong about that last one).
The thing is, my original deal won't work, and for another reason besides I'm 32 and Mom is OK with me seeing R-rated movies. If I don't watch TV, you see, I'll completely miss it.
Straight to DVD, suckas.
Wow, it's going to be really awful. Really stupid. And really at the top of my Netflix queue.