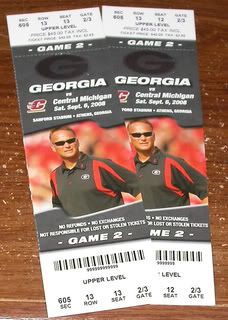 Bear witness, my friends - visual evidence of the upcoming football season.
Of course, I didn't qualify for any tickets from my actual alma mater; these had to be ordered from Central Michigan. The girl on the phone was wonderfully nice, until I listed my mailing address as "Atlanta, GA." The tone noticeably changed.
But I'm in the game, bitches.
Section 606? That's lower-level 50-yard line, right?
(Um, so if ever you happen to be holding a couple extra for any other game, you know who to call).