These are what you call "truncated" picks. Basically, that's just a fancy word for "Oh shit, it's 5:15 on Friday and I still haven't written anything."
I'll be back to full-speed, which of course is everybody else's half-speed, next week.
The picks:
Denver (-9 1/2) @ Kansas City.
PICK: Denver
Cleveland @ Cincinnati (-3 1/2).

Take the over. Always take the over when these two jagoffs play. I'd tell you what the over is, but that would require actual research.

PICK: CincinnatiHouston @ Jacksonville (-7).
I might be outthinking myself in fantasy football this week. I picked up Texans RB Steve Slaton (going against a porous Jags run D) and am starting him over Darren McFadden and Jerious Norwood. And I'm sitting Aaron Rodgers in favor of Buffalo's Trent Edwards, who's facing the Rams. For the perhaps (
perhaps
) single person reading this who cares, any thoughts?
PICK: HoustonArizona @ NY Jets
(-1).
So far my prediction of "the Brett Favre who throws a lot of picks and can single-handedly lose a game for his team will show up in New York instead of the guy from last year" is looking pretty good.
PICK: ArizonaSan Francisco @ New Orleans (-5).
I'm hoping this game will turn out like it would have in the '80s.
PICK: San FranciscoAtlanta @ Carolina (-7).
I swear to God, I'll pick against Atlanta at some point this year. But I honestly can't do it here - despite the Panthers' winning record, they just got beat by Gus Frerotte. So the Falcons will climb atop the broad shoulders of Michael Turner and win a close one.
PICK: AtlantaMinnesota @ Tennessee (-3).
It looks like the Presidential debate is happening tonight, but the candidates don't care if I watch or not. Well, first, because neither has ever heard of me. But second, my vote is already taken. Yep, yesterday I took advantage of
Georgia's new early voting law
. So who did I vote for? Well, I've said for months that I wouldn't vote for McCain or any Georgia Republicans given their recent history, though
some
doubted whether my conservative stripes would overturn that decision. Well, check it: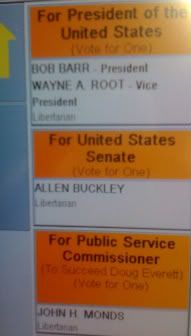 Of course, if Obama wins Georgia by one vote, I'll jab a pencil into my neck.
PICK: TennesseeGreen Bay @ Tampa Bay (-1).
The voting, by the way, was over on Memorial Drive. If you're familiar with Memorial - well, it's a safe bet mine was Bob Barr's only vote. And that he beat McCain by one.
PICK: Green BayBuffalo (-8) @ St. Louis
. Oh, do you mean the Super Bowl-bound Buffalo Bills? You heard it here first! And second! And now third! After they dismantle the Rams this weekend (go Trent!), you might actually hear it somewhere else. In a few weeks.
PICK: Buffalo

San Diego (-7 1/2) @ Oakland.
Ok, so these picks are short and awful. I know. (Of course, what else do you expect based on the recent output here?). But there are reasons. First, I have an actual job. When I did eBay for a living, I had a tad bit more free time for blogging. Second, and far more important than my employment, it's football season. I was going to do a long, drawn out picks column last night, but the oh-so-fucking-awesome Oregon State/USC game got in the way. And today I'm a little scattered because TOMORROW IS THE UGA/ALABAMA GAMEDAY/BLACKOUT/MASSIVE TAILGATE/MUNSON TRIBUTE PERHAPS/WIN AND MAYBE BE #1 GAME. I mean, in 14 years of regularly attending Georgia games, I don't remember so much electricity surrounding one, including SEC Championships and bowl games. Earlier this week, though, I had figured I'd be missing it. Check out
these prices
. The cheapest start at $300, and I know a guy who sold his for $650 each. So it looked like tailgate-watchin' for me. But oh, there was a hero, atop his gallant steed Stedman, who rode in with the sunshine at his back, tipping his hat, and speaking words so lovely they took the form of rose petals and tickled my ears. "My client has two tickets," he bespoketh. "A hundred each. Want 'em?" I looked up at him, misty-eyed, shielding mine orbs from his glory. "Holy fuck yes, dude!" I uttered. And that dude, pray tell, was one
Dave Akins
. My hero. And honestly, if he wants, my lover. It would be worth it.
PICK: San DiegoWashington @ Dallas (-11).
That's a lotta points. Even for Jason Campbell. Basically, I'm thinking nobody is going to go 16-0 a year after the Patriots did it. So the Cowboys are bound to lose a shocker (call it the "Oregon State Corollary"). Is this it? Maybe not, but it will be a game until the clock hits 0:00.
PICK: Washington
Philadelphia (-3) @ Chicago. PICK: PhiladelphiaBaltimore @ Pittsburgh (-5). PICK: Pittsburgh

Last week: 5-11 (ouch)
Overall: 22-24-1