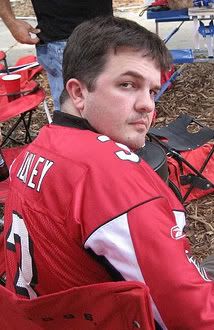 What you're about to read is the result of months of close analysis. It involved an extremely difficult transition on my part, to take off my Atlanta Falcons "fan" cap and look at this year's team as an impartial, clear-eyed football expert.
I had spreadsheets. Charts. At least 40 pages of hand-written notes for
each
position, including long-snapper. It was an exhausting exercise, but one that left me with, I believe, a keener insight into this team than ever before.
The Atlanta Falcons are not just "my team" now, but they are a living organism, a collection of men fused together for a common purpose. And I understand this, finally with a set of unbiased eyes. A clear viewpoint, buoyed by education and unharnessed by favoritism. I see this group for what it truly is.
The Atlanta Falcons will go 16-0 this year.
Now I realize this isn't a popular opinion. People will scoff, or just assume I'm writing it to make you giggle. But no, it's as clear to me as the fact you should refinance your car with State Farm Bank (great rates, free gap insurance, e-mail me for details!).
I've written an equation. A math equation. The roots of it were taught to me during my days as a statistics major minoring in football equations at the
University of Georgia
. It's complicated – far too complicated for me to reveal here, to the plebes – but suffice it to say that math never lies. And it tells me that
Atlanta
will not lose a single game, mostly due to, you know, the integer fraction and its ratio quotient (there's much more to it, trust me).
It's math, people. Recognize. When two plus two equals 47, the Falcons will hang one in the L column.
Ok, so true, I didn't exactly support the Falcons drafting Matt Ryan. Or releasing Alge Crumpler. Or, I guess, signing Michael Turner to that huge contract a year before Knowshon Moreno declares for the pros (just bein' realz).
However, they kept D.J. Shockley and painted the Georgia Dome red and black, so owner Arthur Blank could declare a "Cynthia McKinney Appreciation Day" or insist that all fat dudes goes pantsless, and I'd be at the Georgia Dome eyes wide open, singing the Venezuelan national anthem and cuppin' sweaty ballsack all the way to victory.
So yeah, in an example of perfect timing, mine biased orbs hath returned. Post-study, it is time to shun the coat of objectivity. I am back. And so are the picks.
Washington
@

New York

Giants (-4 1/2).

I've never been able to muster hate for the Giants like all other New York teams, so that's probably why I'm suddenly their biggest athletic supporter (yeah, I know what I said). I mean, they took down the Malignant Behemoth that is the Patriots, so what's not to love? Especially now that Jeremy Shockey is gone. I apologize to my tailgating brethren who are big Redskin fans, but I'm not buying this team as a contender as long as owner Francis Buxton is in charge.

PICK: New York





Cincinnati
(-1 1/2) @ Baltimore.

The Ravens have done themselves no favors in my eyes over the past week, and I know they're worried sick about it. First, they send my beloved former Bulldog Thomas Brown to the IR with a dirty preseason move, then they refuse to sign my beliked former Falcon Joey Harrington to a deal, then they can't arrange for another season of "The Wire." Of course, the Bengals took their sole remaining teardrop of good will and dropped into a lake of rancid rat feces by resigning Chris Henry, a move which even pissed off their die-hard fans. Can al Qaida win this one?

PICK:

Cincinnati

New York
Jets (-3) @ Miami.

I'm not typing his name. You know, that new Jets quarterback. I've read his name enough, you've read his name enough. Nope, not typing it. I will say this, though: nobody seems to remember he pretty much sucked three out of the past four years. I'm in the camp that says last year was the aberration, not the bad years previous. So I expect the Jets to fall short of the playoffs, even though they'll likely emerge victorious here.

PICK:

New York

Kansas City
@

New England

(-16).

For the second year in a row, I've sold my soul to the chowder-eating diablo: Tom Brady is again my starting fantasy QB. That said, I won the championship with his record-breaking ass last year, so I thought, what the hell, I might as well get some enjoyment out of New England's grotesque existence (and I mean the entire New England area, not just the team). Of course, the first game hasn't even started, and I already want to punch Bill Belichick – with a Buick at high speed – for his will-he-or-won't-he-play shenanigans. PICK: New England

Houston

@

Pittsburgh

(-6).

I don't care about this game at all, so let me tell you about something else I don't care about at all: direct-to-video sequels. I've tried 'em before, because I'm an irrational completist. "Oh, I've seen all the American Pie movies, I should see American Pie Presents Band Camp!" "Will I truly be a part of the Walking Tall universe without seeing Kevin Sorbo in Walking Tall II: Payback?" "What if there is something in Road House II: Last Call that will enhance my understanding of

Road House

?" Well, no more. I could let 'em slide before, because I respect a pure, unadulterated money grab as much as the next fiscal conservative. But oh no, they messed with a classic. They were given a responsibility, and they bitched it. They were handed an honor, and treated it like it was a dog fart, and not just any dog fart, but one where something comes out and your damn dog wipes it on the carpet. Let me put it this way: you have no understanding of how many times, when I was 11 years old, I devised the perfect sequel to The Lost Boys. True, most of them involved me playing Corey Haim's stepbrother who just moved to town, but I had it worked out. The mythology, the characters, the various "death-by-(insert electronic equipment here)" gags that would take place. And I, a 1987 preteen, came up with so many cooler ideas than those douchebags did with the recent Lost Boys: the Tribe. I mean, utter garbage. I understand the budget isn't high, the effects guys didn't exactly work with James Cameron recently, and the biggest stars you can afford are Corey Feldman and the 8th main character from "The O.C." I get it. But that doesn't mean the script has to be so goddamn dumb, without a hint of wit, creativity, and only tenuous stretched connections to the first film. I mean, you could give me a million dollars and a silly task like "Make Robocop IV," and though I couldn't get decent effects or actors, I could still mine something out of it that wasn't completely embarrassing. Nobody expected a classic, but I fucking expected some effort.

PICK:

Houston

St. Louis

@

Philadelphia

(-7 1/2).

I want to hear the previous rant read by Lou Holtz. I'd pay $1,000 for it, to tell you the truth.

PICK:

Philadelphia

Jacksonville (-3) @ Tennessee. Some say the Jags have a shot this year, but I think that's jumping the gun. There are a lot of things critical about this year's team, but I suggest somebody take a drive by their practice field. They're not as fast as a bullet; they're just a gang riddled with holes. That quarterback David Garrard sure is a pistol, though. He won't be enough, though, to shield the Jags from Tennessee's weaponry.

PICK:

Tennessee

Detroit (-3) @ Atlanta.
You know my thoughts. I'm just glad RB Tatum Bell has already been cut from the Lions. I'd hate to have to
hide my luggage
. (Seriously, what a mope).
Pick:
Atlanta


Seattle @ Buffalo (-1).
On November 2nd of last year, I wrote: "

The Bills could be dangerous next year. You heard it here first. (Unless it doesn't happen, then you didn't hear it at all)." Well, you're hearing it here second. The Bills are going to be capital-T Tough this year, and will not only make the playoffs, but WIN at least one playoff game. What is it about the team that perks my pee-pee so prominently? Couldn't tell ya. It's just an instinct, a gut thing, and that part of my anatomy has a far better track record than my brain.

Pick:

Buffalo





Tampa

Bay

@

New Orleans

(-3).

Anybody else see Street Kings? The new Keanu Reeves movie? I just want to know if anybody else felt it was the dumbest, most obvious piece of crap they've ever seen? It centers around Reeves' character being in the middle of a gangland shooting. The two bad guys enter a convenience store, machine guns blazing, scarves and glasses covering their entire faces. And before the shooting even stops, you know who it is. I mean, just know. No doubt. Yet the rest of the movie – some 90 minutes – is about Keanu's character going after the wrong guys, trying to put the pieces together, and then acting surprised when the movie reveals its big "secret." I mean, this is a "secret" on the level of George Michael coming out of the closet. Like, no fucking duh. How Hugh Laurie, Forest Whitaker, and even Keanu ended up in this I have no idea.

Pick:

New Orleans





Dallas (-5 1/2) @ Cleveland.

I spent the offseason honestly scared the Falcons would make a trade for Browns QB Brady Quinn. I mean, I really expected to see a big headline every time I clicked on AJC.com. I think I even DID see that headline in a couple of fever-induced dreams around March. So Matt Ryan, I love you.

Pick:

Dallas





Carolina @ San Diego (-9).

Reading Facebook status updates today has been a joy. No less than 20 friends have some kind of Sarah Palin-related comment, and it's clear Democrats are suddenly scared pooless about her but too afraid to admit it (much the way Republicans have been about Obama for the past few months). Want proof? Obama has been receiving donations (mostly change, har-har) hand-over-raised-fist today. Now I'm not voting for either major party, but watching this transparent hand-wringing has definitely been fun.

Pick:

San Diego





Arizona (-2 1/2) @ San Francisco.

I know it doesn't suck to be Matt Leinart, but, well, sometimes it's gotta suck a little. If he had come out after his junior year at USC, he would likely have been the first pick of the draft and starting this game for the 49ers. However, he waited one year, dropped to #10, and is now backing up 68-year-old Kurt Warner. Of course, being Matt Leinart for one year on the USC campus might have been worth it.

Pick:

Arizona





Chicago @ Indianapolis (-9 1/2).

In the football offseason, around February, I made my very first trip to Chicago. My wein just thawed. (God, I'm crass today. Sorry.).

Pick:

Indianapolis





Minnesota @ Green Bay (-2 1/2).

This is the game Brett Favre really wanted to pl – son of a cocknuts! I typed his name! That is one sneaky pill-snorting drunkard.

Pick:

Minnesota





Denver (-3) @ Oakland.

So yeah, I landed Tom Brady as my fantasy QB. Evil, but necessary. I'm not sure how I ended up with Oakland RB Darren McFadden on my team. The so-called experts claim running back is the most important position in fantasy football, but I'm out to prove them wrong. Well, I sorta have to, with McFadden and Michael Turner as my starters (my bigger names were Brady and Reggie Wayne, taken in the first two rounds). C'mon, McFadden – let's see another Adrian Peterson, pretty please! Um - I mean, now. Now. Dammit. Yeah.

Pick:

Oakland



Oh, and I'm not keeping a fake wagering total this year. It's strictly a wins-and-losses game. I'm all mathed out from the Falcons affair.