Bathe in your jealousy. Mr. Postal Carrier was nice to ol' Josh yesterday.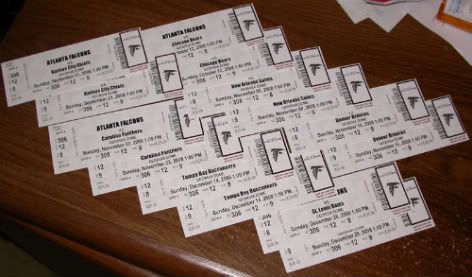 The season tickets are in hand. And hey, I had to sell this weekend's
on eBay
, and I made a whole $1 over face value. They're already paying for themselves, huh?
Oh, speaking of:
"I've written an equation. A math equation. The roots of it were taught to me during my days as a statistics major minoring in football equations at the University of Georgia. It's complicated – far too complicated for me to reveal here, to the plebes – but suffice it to say that math never lies. And it tells me that Atlanta will not lose a single game..."
That's me, three weeks ago. But I checked, and, well, I forgot to carry the two. "10-6." It says "10-6."
I'll take it.
The picks (early this week because of my impending trip to 'Zona):
Kansas City @ Atlanta (-5).
Well, it looks like the ol' oddsmakers are realizing we have something brewin' in Hotlanta! Falcons Magic, baby! Get on board for this 1-1 dynamo! The spread certainly has nothing to do with the Chiefs getting whipped by Oakland -
Oakland
- last week and giving up 300 yards of rushing. The rushing numbers do, however, have something to do with my fantasy team starting both Michael Turner and Jerious Norwood this week.
PICK: Atlanta
Oakland @ Buffalo (-9). Alright, I'm really starting to look pretty good on my non-Falcons predictions. Jacksonville is faltering, Seattle is piss-poor, and my Buffalo love of the past two weeks foresaw the team's somewhat surprising 2-0 start. I called them for the Super Bowl last week, and that actually wasn't a joke. Perhaps the reason I love this team so much? Running back Marshawn Lynch's profile picture on Yahoo. Would you want to tackle him? PICK: BuffaloHouston @ Tennessee (-5).
Every couple of years, I think it's wise to look back at this logo and say, "What the hell were they thinking?" So here ya go:
PICK: HoustonCincinnati @ NY Giants
(-13).
Memo to the Bengals: Karma's a
bitch
, ain't it?
PICK: NY GiantsArizona @ Washington (-3).
Washington seemed to right their ship just a bit on Sunday, but I can't pick against the Cardinals. Why? Because I'm going to be there tomorrow. See, that's the kind of keen insight and logic you get here at Martians Attacking Indianapolis. (Hey, I'm above .500, dammit).
PICK: ArizonaMiami @ New England (-12 1/2).
Let's channel Dwight Schrute a bit. FACT: Miami sucks. FACT: New England played above their heads last week. FACT: New England often struggles against Miami. FACT: Bill Parcells will really, really, really want the Dolphins to beat the Patriots. FACT: They won't. FACT: But they'll cover.
PICK: MiamiTampa Bay @ Chicago (-3).
Not at all interested in discussing the Bucs, except to say I feel absolutely confidant the Falcons will pick them apart in their next meeting. Atlanta eliminates three bad plays, and they win by at least a touchdown.
PICK: ChicagoCarolina @ Minnesota (-3 1/2).
Don't care.
PICK: CarolinaSt. Louis @ Seattle (-10)
. Ah, the glory of patting my own back. Let me repeat what I said last week, while disparaging the Seahawks: "Ok, they are better than St. Louis, but I would put Arizona and San Francisco -
San Franfuckingcisco
- above them in the NFC West. And the 49ers will not only cover here, they're winning outright." That was a fairly bold prediction, mind you, as Seattle was a 7-point favorite. Final score: San Francisco 33, Seattle 30.
PICK: St. Louis

Detroit @ San Francisco (-4).
Hello Mary Lou: Don't Care II.
PICK: DetroitPittsburgh @ Philadelphia (-3).
Don't Care 3-D! Which is odd, I guess, considering it's easily the game of the week. But I'll probably be on a plane. Coming back from Arizona. From seeing UGA play. Have I mentioned that?
PICK: Philadelphia
New Orleans @ Denver (-5).
I'd write something here about Ed Hochuli's blown call last week, but I'm afraid he'd bust through my wall Kool-Aid Man-style and pop by head like a grape between his biceps. Just one time, I'd like to see him get overworked and just slam a free safety to the ground. There's be a two-foot safety-shaped indention in the turf, I shit you not.
PICK: New OrleansJacksonville @ Indianapolis (-5).
I've picked against the Jags (a slavishly overrated bunch) so far this year, and their 0-2 record certainly ain't gonna stop me from doin' it again.
PICK: Indianapolis
Cleveland @ Baltimore (-2).
Buried in
this standard Hollywood Reporter business story
is a kernel of knowledge so perfect, so enlightening, so powerful, that I think the recent hurricanes are God's angry response to it not becoming a bigger deal. Feast your butt: "On the development horizon are 'Warrior,' which Gavin O'Connor co-wrote and will direct; 'Conan,' a fast-tracked project with multiple scripts in the works; 'Severance Package,' with Brett Simon writing and directing; ; 'Korean Wedding' from writer Jason Filardi; and 'Kane & Lynch,' a video game adaptation that will star Bruce Willis." Did you pick up on what I wanted you to notice?
PICK: Baltimore
Dallas (-3) @ Green Bay.
Ok, ok - since you care so much, I'll update you on my fantasy team. And I do so here because I FRICKIN' LOVE AARON RODGERS. As you may recall, I was one of the squads that lost Tom Brady two minutes into the first week, but Rodgers has actually picked up that monumental slack. I'm now 2-0, and sittin' in the first place spot. Suck it, losers.
PICK: Green Bay

NY Jets @ San Diego (-9)
.
Alright, well I'm about off. Look for me at the UGA/Arizona State on Saturday night. I'll be the one in red. (Har har).
PICK: NY Jets
Last week: 8-6-1
Overall: 17-13-1