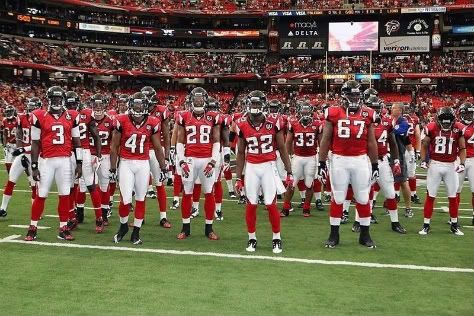 I think some of you believe my Atlanta Falcons fandom isn't genuine.
You say to yourself, "No one could be that big a fan of the Falcons. He might like 'em a little, having grown up in Atlanta and all, but he's clearly exaggerating. I mean, it's like when he constantly praised Joey Lawrence's show 'Brotherly Love' back in his college newspaper. He's just being ironic."
Ok, let's make this plain, because it's important: "Brotherly Love" was fucking hilarious. Joey was ok, but really it was Matthew and Andrew Lawrence who elevated that show - the fact that both of their characters are batshit crazy, like certifiably nutso, like one false move and this kiddie comedy becomes an institutional drama, was a brilliantly subversive move on the creators' part. I've already set up Amazon to alert me when the DVD release is finally, praise be to God, released.
But hey, we're not here to talk classic television. We're here to talk football, and specifically, the Atlanta Falcons. Because I most definitely am as big a fan as I let on. I haven't watched a game in 10 years without wearing a jersey (I'm still sporting the DJ Shockley one this year, a monumentally thoughtful gift from The Fiancee). I do scream at the TV, and occasionally, wet myself just a little. Also, and this is a tough one, I do get depressed for a few hours after a loss. Those hours add up.
There is one thing I've never done to prove my loyalty, however. Until now. The jerseys, shirts, hats, king-size sheets, toilet seat covers, dog sweaters, tattoos, logos shaved into my hair - those were all well and good. But I've just ponied up for the one thing I never have before.
On Monday, September 8, 2008, I became an Atlanta Falcons season ticket holder.
It was an impulse buy, and not a very expensive one. Seven home games left in the season, one against Chicago I can probably scalp for half of what I spent, and seats so high I can hear Sean Taylor's play-by-play - all for $25 a game. More importantly, I am now an official member of FalcoNation, a word I just made up.
By the way, I have two tickets, so if you want to go let me know. Shockingly, The Fiancee didn't immediately claim all of them. Or any of them.
The picks:
Oakland @ Kansas City (-3 1/2).
I mean, my God, this is what we start off with? I didn't see much of the KC game last week - except
that
play, of course - but I did catch Oakland on Monday night. And holy cow, am I happy to see DeAngelo Hall now on the west coast. He started Atlanta's season off last year by handing Carolina a couple back-to-back personal fouls en route to a loss, and he turned around and did the same thing for his new team against Denver. And that wasn't even the most brutal stretch of that game for Oakland. They are just a horrible, horrible team, and if they can't pull out a win against the hapless Chiefs, I'm not sure who they can get one against.
PICK: Kansas City
Tennessee @ Cincinnati (-1). Oh, the heralded quarterback class of 2006. How many debates raged about the big three: Vince Young, Matt Leinart, and Jay Cutler? Even the second tier - Tavaris Jackson, Kellen Clemens, Charlie Whitehurst and Brodie Croyle - inspired an absurd amount of conversation. Out of that group, only Cutler has looked like he deserves to be a starter, and Young is looking more and more like a bust each week. Just in the last few days, he refused to go into the Jacksonville game until his coach forced him, sprained his MCL and will be out up to a month, disappeared so long his coach called the police to help find him, and apparently told his mother he doesn't even want to play football anymore. He was the third overall pick in the draft, by the way. PICK: CincinnatiIndianapolis (-2) @ Minnesota.
Both of these teams looked pretty horrible in their first game. But here's a hint: only one of them truly is.
PICK: IndianapolisNew Orleans @ Washington
(PICK).
Here's the first "WTF" spread of the year. I mean, away game or no, you just know the Saints are going to trample the 'Skins here. Right? I mean, too easy. So why is it a pick? Because, as usual, Vegas is smarter than we are. Well, near the end of the season, when I've relearned all my old lessons, I'll be smart enough to take Washington here. I'm not there yet, though
.

PICK: New OrleansGreen Bay (-3) @ Detroit.
"Who: Aaron Rodgers Fan Club. When: Every Sunday from here on out. Where: My house." This is as good a place to talk about it as anywhere, I guess. I went through a crisis of conscience on Sunday night, to be sure. When I heard Tom Brady was out for the season, my immediate thoughts went out to what I truly care for: my fantasy team. My defending championship squad took Brady with its first pick - seventh overall - and he was the biggest reason I can call myself a "defending champion." Because I am, again, the "defending champion." You hear that,
Gillett
(aka "Not Defending Champion")? Anyway, so Brady is done, and I'm panicking - until. Until I realize that, hey, Tom Brady is done. Ignore the fantasy implications for as long as I can, three or four seconds, and realize the Patriots are freaking toast. I mean, my most hated team in any sport, from my most hated sports town, in my most hated part of the country that's not north Florida; I mean, this is great news. And it became a helluva lot easier to swallow when my team's backup, Green Bay QB Aaron Rodgers, lit up a supposedly stellar Minnesota defense on Monday night. So I'm thinking losing my starter but having a capable backup combined with that tampon of a team not making the playoffs is more than fair.
PICK: Green BayChicago @ Carolina (-3).
One of my few deflating moments last weekend was Jake Delhomme's literally last second toss to Dante Rosario to beat San Diego. I mean, the Falcons are going 16-0 and don't need help in the division - but hey, a little insurance wouldn't hurt.
PICK: CarolinaNew York Giants (-8 1/2) @ St. Louis.
Looking at some of these posts from a year ago, I was just killing Eli Manning.
Killing
him. It's a wonder what one playoff run can do for a guy's reputation. But now I'm curious - did Eli turn a corner, or are we still looking at the guy who I first called a bust way back when I saw him between the hedges? Last week's barely-above-50%, no TD, one pick performance isn't enough to paint him with a pink brush just yet, but Eli,
ah gat mah eye on yew
.
PICK: New YorkBuffalo @ Jacksonville (-5 1/2).
Last week, I warned 'ya about Buffalo, that they are the team to watch in the AFC. And whaddaya know, they go out and dismantle the supposedly playoff-bound Seahawks 34-10. Of course, now with Brady out of the picture, things look even better for the Bills. So I'll make the call now, if you don't mind: Atlanta vs. Buffalo in the Super Bowl. Stranger things have
n't
happened.
PICK: BuffaloAtlanta @ Tampa Bay (-8)
. Minus eight? Can that be right? Didn't the oddsmakers see the unqualified brilliance of Atlanta last week? Or, more to the point, didn't they see how inept Tampa looked against New Orleans? The Bucs' offense only managed 13 points, or less than Atlanta managed in the first nine minutes against Detroit. Atlanta Falcons, Offensive Powerhouse. I like the sound of that.
PICK: Atlanta

San Francisco @ Seattle (-7).
Alright, let's lay out the differences between "hate" and "hate." There are teams I hate, like New England and Dallas, who I want to see go 0-7 before going down in a Marshall University-style plane crash. Then there are the teams I hate, meaning I might technically like or dislike them, I just hate their chances to get anything done this year. And it fits more with teams that
other
people believe are going to do well. In that vein, I hate Jacksonville. Everybody's predicting big things, I don't see it. I hate Minnesota. And probably most of all, I hate Seattle. Most experts have them earmarked for a playoff spot mostly because of their easy division. Ok, they are better than St. Louis, but I would put Arizona and San Francisco -
San Franfuckingcisco
- above them in the NFC West. And the 49ers will not only cover here, they're winning outright.
PICK: San FranciscoMiami @ Arizona (-6 1/2).
In five days, guess who else will be @ Arizona? Yours truly, bitches. The Fiancee and I have a hard and fast rule about not taking vacations unless football is involved, so we will squeeze some time in between pool lounging and
botanical garden-seeing
(not my idea) for the UGA/ASU game next Saturday. Sadly, we will not be there in time to see this 10-3 affair.
PICK: ArizonaNew England @ New York Jets (-1 1/2).
The Patriots will win this one, which gives me mixed emotions. I hate seeing the Pats win anything, but I do love that it will give their swissdick fans false hope before the inevitable losing streak.
PICK: New England
Baltimore @ Houston (-4 1/2).
I hate Houston. The second kind of hate.
PICK: BaltimoreSan Diego (-1 1/2) @ Denver
.
Well, it's September 11th. And I think we all know where our minds are today. I, for one, can't stop thinking about that infamous American tragedy, that point where our national psyche shifted, and was perhaps fractured forever. I would be interested in knowing how you are getting through the day. We can all benefit from sharing our feelings. I mean, really, can you believe today marks the 38th anniversary of the
Ford Pinto's introduction
?
PICK: DenverPittsburgh (-6) @ Cleveland.
Yeah, yeah - I know. Ha-ha. Take a national tragedy, lead you to believe I am a caring soul, and then make a stupid joke about a car. I know, I'm an ass. Seriously, though, I would like to take a moment to reflect on an event that took place on this day, one that caused the deaths of thousands of people, and continues to terrorize us today. Yes, this is the
16th anniversary of the release of Wind
, starring Jennifer Grey and Matthew Modine. I still have nightmares.
PICK: Pittsburgh
Philadelphia @ Dallas (-7).
Monday night! Dallas Cowboys! Philadephia Eagles! Brutal rivalry! Playoff implications! And yet the majority of this game's media coverage
surrounds Jessica Simpson
. Which is better than T.O., I suppose.
PICK: Dallas

Last week: 9-7
Overall: 9-7