Ok, how absurd is this?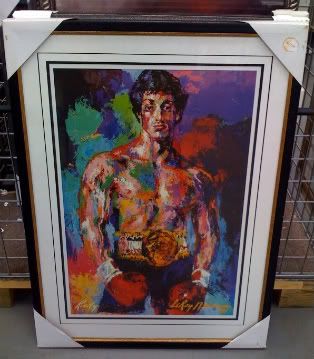 Oh, of course:
ab⋅surd
[ab-
surd
, -
zurd
]
-adjective

1. totally fucking awesome; cooler than your butt:
ex. Michael J. Fox is absurd in "Teen Wolf"
I'm not sure if you can tell by the picture, but that thing is full-sized, man. Three feet tall, professionally framed. And all for the low, low Sam's Club price of $177.99.
I'm not kidding - the Conyers, GA Sam's Club is selling a framed, mounted art print of
Rocky III
for $180. Who did they think was going to buy that? Hell,
I'm
not even going to pay $180 for that. And by "I'm not," I mean I probably will. By the end of business Friday.
Please talk me out of this, if you possibly can.
Thursday night NFL:
Oakland @ San Diego (-9). PICK: San Diego