I made a stupid mistake on Tuesday.
On my lunch break, I went to a local mall to get some holiday shopping accomplished. After getting you something nice, I was headed into Border's to buy yet another book I won't read, and I got distracted - by a puppy barking.
So who knew malls still had pet stores. I remember those things flourishing in the '80s, but haven't seen one since, and seem to remember disgusting stories about freezers full of kittens I'd rather not revisit. Of course, considering Conyers is about 20 years behind the rest of the world, maybe it made sense.
I walked in. A little plastic open-top cage full of rabbits. Cute. Some kittens in cages. Adorable. And then this:
A 4-month-old pug, my favoritest kind of dog in the world. I asked to see the little boy, was ushered to a "play area," and he was brought in. We spent about 15 minutes together - I began rehearsing the introduction of my new pug to the older lady pug I have at home, and I'd be lying if a few names hadn't popped in my head ("Puga" and "Rambo" were leading contenders). And then I thought to ask the price.
Seventeen-hundred-for-fuck's-sake-I'm-not-exaggerating dollars. $1,700 for a dog, and upon seeing my color drain, the saleslady coldly informed me that I shouldn't worry because if he died, they would replace him for free. Do these people not understand the relationship between human and dog? Wouldn't that be a qualification of their job?
I parted ways with Puga/Rambo, and apologized we wouldn't be going home together. I tried to take solace (a quantum, maybe more) in the fact that anybody who paid $1,700 would provide a nice home, but I heard his cries as he was put back into a cage. They were a punch in the dick.
Screw those puppy mills and their freezers and their cold, dead hearts, anyway. I'm headed over to where I'm wanted -
Pug Rescue
. And once the deed is done, I will be sure to post arm-gnawingly cute pictures of my new little guy/gal. (That website makes me cry. Seriously. I'm such a pussy.)
The picks:
Green Bay (-1 1/2) @ Jacksonville.
I don't think there's any doubt, by the way, that I like dogs about a hundred times more than humans. If I ran into a burning house and had to save either a puppy or a baby, I really would try to grab both - but the little brat would be the first drop if things got too heavy.
PICK: Green BayWashington (-7) @ Cincinnati
.
Ok, keeping with the theme - if you walked into a store and saw babies in cages, would you feel any worse than when you see a cute puppy in one? I'd feel worse for the puppy - because they have an understanding of what's going on, while babies are just dipshits.
PICK: Cincinnati
Detroit @ Indianapolis (-16 1/2).
Drew Brees's MVP candidacy took a serious hit last night, which is fine with me - because a team that doesn't go to the playoffs shouldn't have an MVP. Remember, the V stands for "valuable." The Saints would have gone to just as many playoff games this year if they had started ME as their quarterback. I bring this up now because I am firmly (and obviously) on the "Matt Ryan for MVP" bandwagon if the Falcons go to the postseason. How different would the season have been with Chris Redman as the starting QB? That's how you have to measure this. The only other candidate in my mind is Peyton Manning, for the same reason - with Jim Sorgi (or whoever is backing him up these days) as the starter, the Colts might have won two games by now. No teams would suffer more than the Falcons or Colts from the loss of one player.
PICK: Indianapolis
Tampa Bay @ Atlanta (-3).
If possible, I've actually gotten
more
excited about the Falcons' season this week. Because now, I guess, we really figure out where the team is headed. To get to the playoffs, Atlanta probably has to win the rest of its schedule - which is really doable. If we get past the Bucs here, we go to an average Vikings team, and a way-less-than-average Rams team comes to us (yes, I've earned the right to say "we" and "us," because I did it when WE were winning three games a year). And hell, you don't have to be a gambler or a fantasy football player to care about the other action this week. Falcons fans also have very vested interests in the fates of the Giants, Broncos and Cardinals (and those teams are conveniently spread out over the late afternoon and night games on Sunday).
PICK: Atlanta
Seattle (-2 1/2) @ St. Louis.
Last week, I was excited to watch the Falcons on the big screen - I mean, a really big screen, meaning digital projection at a local movie theater. A movie theater that serves beer. I mean, come on, how can that fail? Well, here's how.
Ok, the picture was OK. They were basically just projecting the TV feed onto the screen - not exactly HD, but big enough to work. The problem, though, is that we were in a movie theater. It felt weird to talk. It felt even weirder to stand up and cheer (the last person I saw do that at a movie was my dad, at the end of
Glory
when all the yankees died). Plus I think that theater is where all the Katrina refugees ended up. We were the only Falcons fans in the place, and I thought with one more yell, I was going to get shanked. At halftime, the move was made to a local sports bar, and viewed on a small TV from a large distance - and it was grand.
PICK: St. Louis
San Francisco @ Miami (-6 1/2).
Color me unimpressed with the Dolphins, who I heard described this week as "the surprise story of the NFL this year" (
excuse the fuck out of me?
). They had a nice win against a reeling Patriots team early on, but since they have only a single victory against a team with a winning record (Denver). Other than that, their win list is a veritable shit waft - San Diego, Buffalo twice, Seattle, Oakland and St. Louis. Plus, once the Patriots got their sealegs back, the Dolphins were slapped around 48-28. Take the 49ers if you'd like, by the way, but the safer bet is probably the "under."
PICK: San FranciscoBuffalo @ NY Jets (-7 1/2).
Let's review what I said about last week's Jets game, when they were favored by four over the 49ers: "Upset alert. ESPN's Monday programming will be full of 'What's happening to the Jets' stories." Take a look at ESPN's main NFL page yesterday:
Thanks to DAve for his fancy image-grabbing techniques.
Come on, I'm having a horrible year picking games. I need to highlight everything of the blind-squirrel-gets-a-nut variety.
PICK: BuffaloTennessee (-3) @ Houston.
My other upset alert - Alabama 27, Florida 24 - came tantalizingly close to happening, by the way. If the Tide had been able to take their last realistic drive to the end zone, that would have been the
exact
final score. And I'd be even more obnoxious than I already am. (Speaking of upsets, the Texans win this game.)
PICK: HoustonPittsburgh @ Baltimore (-2 1/2).
I was shopping for some Christmas gifts yesterday when I came across a perfect item for the - uh, Washington Nationals fan in your life. This is at the Toys R Us in Conyers, GA:
Those are an absurdly large amount of action figures in the likeness of Nationals' closer Chad Cordero. Because that's what every kid is looking for under the tree, right? I started to think that maybe there's a Toys R Us in a Conyers, Virginia that these were intended for, but I don't even think you could sell them at Nationals games.
PICK: PittsburghDenver @ Carolina (-7 1/2)
. Go Broncos. Go Broncos. Go Broncos. Go Broncos. Go Broncos. Go Broncos. Go Broncos. Go Broncos. Go Broncos. Go Broncos. Go Broncos. Go Broncos. Go Broncos. Go Broncos. Go Broncos. Go Broncos. Go Broncos. Go Broncos. Go Broncos. Go Broncos. Go Broncos. Go Broncos. Go Broncos. Go Broncos. Go Broncos. Go Broncos. Go Broncos. Go Broncos. Go Broncos. Go Broncos. Go Broncos. Go Broncos. Go Broncos. Go Broncos. Go Broncos. Go Broncos. Go Broncos. Go Broncos. Go Broncos. Go Broncos. Go Broncos. Go Broncos.
PICK: Denver
Minnesota @ Arizona (-3).
Another big game for the Falcons. Chicago got the win on Thursday, so let's have 'em take the NFC North and have the Vikings retire to Valhalla. (I'm only educated enough to make that reference because my high school mascot was the Viking, and our yearbook was named Valhalla). Viking heaven. Word.
PICK: Arizona

San Diego (-5 1/2) @ Kansas City.
There was a concert in Atlanta this past week. Based on this picture taken there, guess who was performing.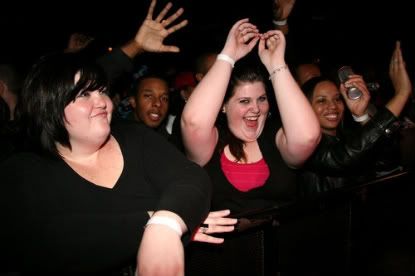 You didn't get it right
.
PICK: San DiegoNY Giants @ Dallas (-3).
Oh God, I can't wait. CAN'T WAIT. Whether or not Atlanta wins Sunday - but especially if they do - this game is monumental to Atlanta's playoff chances. My buddy Lu - such a Giants fan he forked over cash he could have spent on a decent camera to get
second row seats to the Super Bowl
- has offered me a Giants jersey to wear Sunday night. Upon hearing it would say "Shockey" across the back, however, I had to decline. A brother's got some pride.
PICK: NY GiantsCleveland @ Philadelphia (-14).
In news you absolutely won't hear on CNN, 650+ scientists have disputed Al Gore's case that
"the science is settled."
If ya think Mr. Gore will debate even a single one of them, though, you're mistakin', sister. He's too busy counting
the money he's made of this "crisis."
(See, I had you all the way to the last entry and had to screw it up.)
PICK: ClevelandLast week: 7-9
Overall: 49-54-3