I took the day off work, which should mean you'd be getting a heapin' helpin' of NFL picks right about now. Sadly, my day has been spent in preparation for the Georgia-Florida roadtrip, which embarks in T-minus 90 minutes. Liquor store, Kinko's, Kroger, laundry, liquor store, packing, liquor store - there's only so much I can handle right now.
So as crushed as I know you are right now, I apologize as I present you with a sorely lacking piece of fluff. I promise to do you better next time.
That said, there is one bonus here. With the help of Earl (aka Puga), I present you with the new-and-hopefully-improved Cocktail Party sign: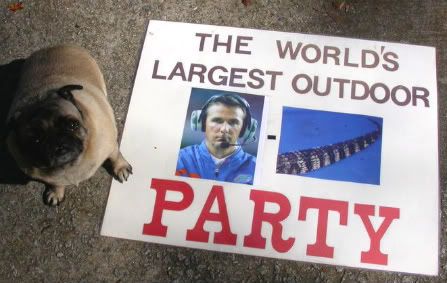 The picks:
Houston
@ Minnesota (-4 1/2).
PICK: Houston
Jacksonville (-7 1/2) @ Cincinnati.
Ah, Jacksonville. Nestled in burgeoning Duval County, home to fine dining and fine crackwhoring alike, destination of today's said roadtrip. Let's just say that I've gotten lost in Jacksonville - and that I never again want to get lost in Jacksonville.
PICK: JacksonvilleTampa Bay (-8 1/2) @ Kansas City.
Jacksonville. There, I just wanted to squeeze it in one more time after the last paragraph.
PICK: Kansas CityBaltimore @ Cleveland (-1 1/2).
Speaking of the road trip, I'm happy to report gas prices in the $2.20s. Even in The Fiancee's Honda Fit, we'll still save upwards of $50-plus doing this trip now as opposed to three weeks ago. I'm just wondering where those "experts" are that told us recently we'd soon be seeing $10 a gallon, and never again see anything below $3. They've gone back to forecasting global warming, I guess.
PICK:
Cleveland
NY Jets @ Buffalo (-5 1/2).
Happy Halloween, by the way. Be sure to dress up as something scary, like
Bills RB Marshawn
Lynch
. (God, I love that guy).
PICK: BuffaloArizona (-3) @ St. Louis.
PICK: Arizona

Detroit @ Chicago (-13).
PICK: Chicago
Green Bay @ Tennessee (-5 1/2).
Take Green Bay and the money line. The Titans are not going 16-0 this year, and this is a huge slip-up possibility. Plus, Aaron Rodgers had a week off to rest up and heal (of course, that doesn't mean I'm starting him on my fantasy team against the Tennessee defense. Hells no.)
PICK: Green Bay
Miami @ Denver (-3).
Netflix Recap: I have been watching a lot of movies lately, but this week I veered back to renting TV shows. Right now, I'm holding discs of
"Spaced"
and
"Mad Men,"
neither of which I'd ever seen. So far, I've made it through seven episodes of "Spaced" - a Britcom from the
Shaun of the Dead
guys - and I'm beginning to think it was a bit overhyped. I mean, it's funny. I've laughed out loud many times. But I've been hearing for five years about how it blows away the UK "Office" and rivals Monty Python, and so far I ain't seein' it. As I'm not even halfway through, though, I'll reserve judgment. The creators are surely relieved.
PICK: DenverAtlanta (-2 1/2) @ Oakland
. The Falcons got a game stolen from them by incompetent referees last week. If you were within two miles of my house last Sunday, you surely heard my reaction to the blown call. So here's the test for Atlanta - fly across country, and pick yourselves up in one of the hardest places to play - thankfully against a pretty crappy team. As a side note, Matt Ryan will be making his debut for my 8-0 fantasy team against the league's second place squad, so my faith in him obviously knows no bounds.
PICK: Atlanta

Dallas @ NY Giants (-9). PICK: DallasPhiladelphia (-6 1/2) @ Seattle.
The sucker's spread. "Oh, the Eagles are definitely going to beat lowly Seattle by more than a touchdown! Definitely!" Vegas - a place I increasingly believe is the site of the world's only time machine - is smarter than you. Always remember that, my friends.
PICK: Seattle
New England @ Indianapolis (-6).
Actually, this sort of reeks as "sucker's spread" as well. What have the Colts shown to make you believe they could beat the Patriots by two field goals? So in this scenario, Vegas would appear to be begging us to take the Patriots. But I want to take the Patriots. And this is why Vegas is smarter than me too.
PICK: New EnglandPittsburgh @ Washington (-2). PICK: PittsburghLast week: 5-7-2
Overall: 53-58-5