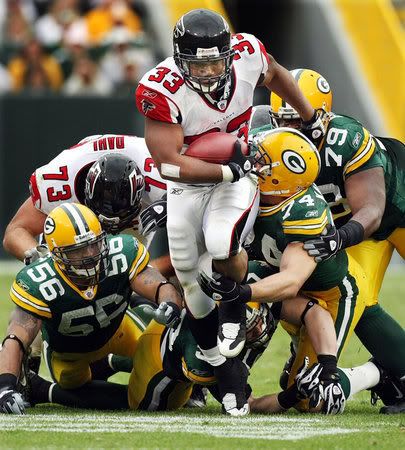 I love this photo. You rule, AJC.

In 2008, the Atlanta Falcons shocked the NFL faithful by going 11-5 and grabbing a playoff berth in a "rebuilding year." A popular question at season's end concerned the team MVP's identity.
Was it quarterback Matt Ryan? Running back Michael Turner? General manager Thomas Dimitroff?
My opinion hasn't really changed since then. The clear MVP of the 2008 Atlanta Falcons season wasn't a first-round draft pick, a free agent find out of San Diego, or the world champion procurer of cool hair gel. The MVP was The Schedule.
As I've said before, the cards fell
perfectly
for a young, inexperienced team (though not the Cards, unfortunately). The schedule opened with Detroit, who wouldn't win a game all season. It included Green Bay, Kansas City, Oakland and St. Louis, none of whom would win more than six. Most of the tougher matchups were slotted in the season's second half, once confidence was built.
The 2009 schedule was announced Monday. We've known the opponents for a couple of months, but not how they'd be laid out over the 17-week season. Suffice to say, I won't be making
another 16-win prediction
(although, it must be said, my 16-0 call was a helluva lot closer than some outlets, who
called for 1-15
.)
We're (yes "we," goddammit) matching up with the NFC's best division,
and
the AFC's best. We're facing a single team that ended the '08 season with a losing record - and that was a 7-9 squad that just added Terrell Owens. Our biggest name opponents are all on the road.
So let's get this out of the way, then: the Atlanta Falcons will win the Super Bowl this season. Surprising prediction coming from me, I know. But it's just, well - the schedule works. It works better than
this
schedule could have possibly worked. And that's not just pried from my nether regions like the 16-0 prediction; validity is actually involved.
Week One: Miami Dolphins. Week Two: Carolina Panthers.
The schedule's best part? It begins with two very winnable home contests. Miami is a cute preseason sleeper pick, but it's all smoke and Pennington. No way does QB Chad repeat last year's numbers, and their overhyped Wildcat Formation will have been studied by every coach for a year. Carolina is also due for a letdown after an over-achieving 2008. Unless, of course, they've secretly replaced interception machine Jake Delhomme with pick-free Sanka while I wasn't looking.
Falcons record: 2-0Week Three: @New England.
If you have to face the Patriots, get 'em early and pray Tom Brady isn't 100% yet. A loss here isn't the end of anything; as long as Atlanta is competitive, the lessons learned and confidence acquired can pay off huge as the season progresses.
Falcons record: 2-1Week Four: Bye week.
A little early. Don't like it, to tell you the truth. If we do get trounced by the Pats - a big, monster, don't-fucking-sweat-it "if" - these two weeks will be psychologically back-breaking.
Week Five: @San Francisco
.
Matt Ryan vs. Shaun Hill. Matt Ryan vs. Alex Smith. Matt Ryan vs. Damon Huard. Matt Ryan vs. TBD Rookie. Those are the four ways this game plays out. I like those four ways.
Falcons record: 3-1Week Six: Chicago.
Almost a month since Atlanta's last home game, the Bears return for a prime-time rematch of 08's breath-taking (literally; I almost died) last second Falcons win. And this time, Chicago has Jay Cutler in tow. I don't like any team to run a home schedule undefeated, so I'll make a wild stab here. And yes, this stab will be reversed once game week gets here.
Falcons record: 3-2Week Seven: @Dallas.
Week Eight: @New Orleans.

A wicked stretch. One visit to Dallas's new billion dollar stadium, one visit to New Orleans' old rape-stenched shantytown (at night, no less). As a firm believer in the Cult of Romosucks, I think Atlanta has a much better chance to get out of Texas with a win. And without scabies.
Falcons record: 4-3Week Nine: Washington.
Oh, what a joyous day. I hope to have all of my Redskins-loving compatriots with me at the Dome, only to enjoy it even more when Daniel Snyder's annual vomitrrhea of a team falls by double digits.
Falcons record: 5-3Week Ten: @Carolina.Week Eleven: @New York.
Dastardly, just dastardly. A split with Carolina can be expected, and the New York matchup will probably be Atlanta's first true frigid weather affair. Again, knowing full well I will change these predictions in a few months...
Falcons record: 5-5
Let's take a break here. You're asking yourself, "Josh, you know everything about NFL football, and you have the Falcons at .500 after ten games! How could you, oh sexy wise one, still be predicting this team for a Super Bowl berth?" Yes, you're asking yourself that. You are. Trust me. Well, read on.
Week Twelve: Tampa Bay.
Tampa Bay will suck this year. My first real, unwavering prediction. The Bucs are looking at 6-10 at best, and I'll be a little surprised if they even hit that. I keep reading these NFL outlook pieces saying Tampa Bay could be a contender in the NFC South, and I get the same feeling that the annual "San Diego is going to the Super Bowl this year" predictions give me. "I. Just. Don't. Get. It." This is an easy win.
Falcons record: 6-5Week Thirteen: Philadelphia.
Very possibly the shoot-out of the year. I don't believe the Eagles are as dominant as in years past, but Michael Turner might have a long day. I'll call a win, but it could easily be within a field goal.
Falcons record: 7-5Week Fourteen: New Orleans.
The Saints visit Atlanta, and the lack of chlamydia in the air stuns them into a stupor for the first half. The Falcons take advantage, and cruise.
Falcons record: 8-5Week Fifteen: @NY Jets.
I'm not buyin' what the Jets are sellin'. Not until they have a QB, at least.
Falcons record: 9-5Week Sixteen: Buffalo.
Last year's Buffalo team was one of my more left-field Super Bowl predictions in recent seasons, and I get the feeling I just jumped the gun by 12 months. If Trent Edwards is healthy, there could be a surprise in store.
Falcons record: 9-6 Week Seventeen: @Tampa Bay.
A playoff spot could very easily come down to this, which may mean I'll be looking for Tampa roadtrip buddies (now accepting resumes and applications). The game starts at 1, and will be over by 1:30.
Falcons record: 10-6
Ten wins should get the NFC South for Atlanta. And this is where the schedule's true beauty reveals itself - Atlanta has already faced a number of teams they'd be meeting in the playoffs, and the task of facing the Tom Bradys/Donovan McNabbs/New York Giants (can't type "Eli Mannings" with a straight face) will seem a helluva lot less daunting than they do now. The schedule prepares us for a deep, deep run.
This is one of the rare occasions when going from 11-5 to 10-6 isn't a step back. With the season landscape looking as it does, it will in fact be a huge step forward. The Falcons will claim -
Ah, fuck it, never mind. 16-0.