Loran Smith and Norm Carlson, self-made historians of the Universities of Georgia and Florida respectively, have published
Florida-Georgia: Rivalry Football Vault
. It's another in a series of Football Vaults each has written, and I didn't actually know it was
a series
until now. I've been giving Smith credit for a great idea.
The books relate their subjects' histories through photos, text and various "memorabilia" - basically reproductions of tickets, posters, newspaper clippings, or anything else that would be included in a fan's scrapbook.
Well, there's something especially interesting to me in the new book - a copy of The Red & Black's November 3, 1997 front page. The R&B was UGA's student-run newspaper, and I was one of its contributors from 1995-1998. Something you probably already know if you're reading this.
Cool, right?
Well, it started me to thinking. Why include this? I mean, it was a big win - shocking at the time. And it's a pretty good front page. I remember the buzz in the copy editing room that night, as our minds huddled to come up with the perfect headline and image (I probably recommended something like "FUCK YES"). But does it really merit inclusion in this historical record?
And then I noticed it. Ah, of course.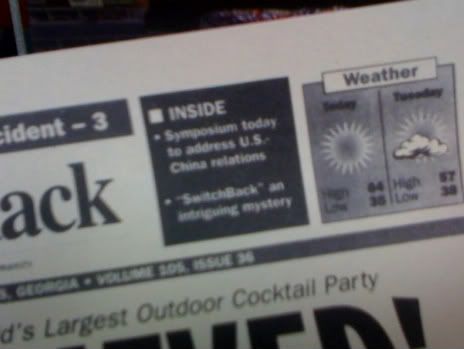 Yep, it's the tease for my
Switchback
review, which I believe is still studied in UGA's journalism school. It was a stunning dissection of the Dennis Quaid serial killer drama, one of my finest works if I say so myself.
I'm still not sure why it wasn't published on the front page.