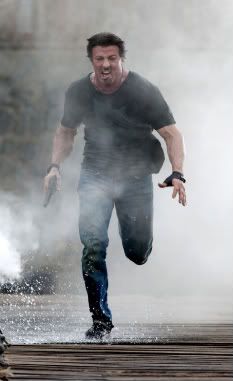 We have officially reached the point where a single utterance of the word "Expendables" means I have to change underwear: Bruce Willis is joining Sylvester Stallone's film, due next April.
The "Die Hard" star confirmed to MTV News that he is leaving time open on his schedule to shoot a cameo for "The Expendables," the ultra-violent, star-studded action flick written/directed by and starring Sylvester Stallone. Sly is currently putting the finishing touches on the movie, which also stars Jason Statham, Jet Li and Mickey Rourke as mercenaries overthrowing a South American dictator. Willis said that the he will soon join Stallone and Arnold Schwarzenegger to shoot a very special scene for the flick.
So yeah, in what obviously will be the greatest single scene in movie history, John McClane will be standing beside John Rambo and The Terminator. Hey Orson Welles: fuck you.
To refresh, as I've written about
here
and
here
and
here
, Stallone is following his amazing
Rambo
with an throwback
Dirty Dozen
-type action flick. The cast is fashioned of action stars past and present - himself, Jet Li, Jason Statham, Mickey Rourke, Steve Austin, Eric Roberts, Dolph Lundgren and Randy Couture. With Schwarzenegger and Willis in cameos, which fills so many of my 1988-era fantasies. And 2009 ones, yes.
It hits theaters on April 23, 2010, a date I am actively trying to get Christmas moved to.
Speaking of Couture - well, I really didn't know who he was, but apparently he's a big Ultimate Fighting star. I can't think of anything I care about less about - but that said, put
Expendables
clips in your commercial, and I'll post it.