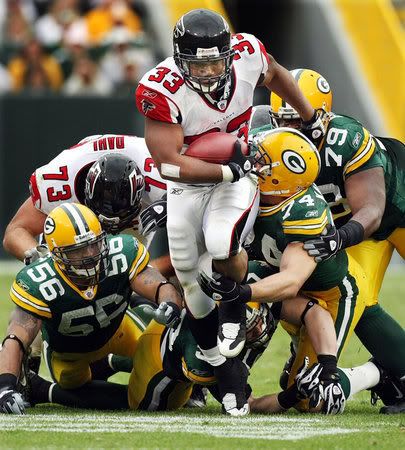 This is at least the third time I've used this picture. Because it's that good.
"I have never looked forward to a season this much." It has become a familiar refrain among Atlanta Falcons fans, and I couldn't agree more.
My anticipation, however, goes far beyond my team's sudden relevance. There are a swath of storylines that'll even keep Cleveland Browns fans tuned in until late in the season.
Michael Vick debuts for Philadelphia, including a game against his former team. Similarly, Brett Favre has two games
against
Green Bay, including a Week 4 Monday Night Football matchup. Tom Brady returns. Fights are breaking out among Oakland coaches. Tampa Bay's quarterback of the future is
Argyle
from
Die Hard
. Eli Manning attempts to live up to his "highest paid player" status. Tony Romo and Jake Delhomme undoubtedly find new ways to lose games. Peyton Manning goes it alone without brother-in-arms Marvin Harrison, Trent Edwards goes it with Terrell Owens.
Oh anticipation, I cut off a slice and you taste of cinnamon and dreams.
Here is Martians Attacking Indianapolis's official prediction of the 2009 season. Of course, this will only prove useful in the months to come, to reflect on and mock the glaring errors. I put myself out there for you, O Legion. Because I am ready for some football.
NFC East
1. NY Giants (12-4)
2. Philadelphia Eagles (11-5)
3. Washington Redskins (8-8)
4. Dallas Cowboys (8-8)
Two of the year's best games are bound to be the Giants/Eagles matchups - more specifically, seeing New York's stupid-good defense up against what is bound to be, at the very least, an
interesting
Eagles offense. Washington will continue to tread water without a true franchise QB, and Dallas will flounder with a guy everybody thinks is a franchise QB - but isn't.
NFC North
1. Green Bay Packers (10-6)
2. Minnesota Vikings (9-7)
2. Chicago Bears (8-8)
4. Detroit Lions (3-13)
Yeah, that's right. While Packers QB Aaron Rodgers will improve, the Brett Favre experiment will be a failure (failure defined as "not making the playoffs"). And I'm not sold on Cutler's immediate success with Chicago. He goes from throwing to Brandon Marshall and Eddie Royal to Devin Hester and a bunch of guys you've never heard of. Barring injury, Matt Stafford will start all 16 games for the Lions, and be immortalized for winning three more games than last year.
NFC West
1. Arizona Cardinals (9-7)
2. San Francisco 49ers (7-9)
3. Seattle Seahawks (7-9)
4. St. Louis Rams (3-13)
Just a bad, bad division. Arizona won't be as good as last year, but wins by default.
NFC South
1. Atlanta Falcons (10-6)
2. New Orleans Saints (9-7)
3. Carolina Panthers (9-7)
4. Tampa Bay Buccaneers (2-14)
Yes, the Falcons technically take a step back from last year's 11-win total. However, when you replace Kansas City, Oakland, Detroit and St. Louis with New England, Dallas, Philadelphia and both New York teams, it's a demonstrable success. And the rougher schedule will only benefit us (yes, us - I'm a season ticket holder) in the postseason. My own personal silver lining would be a division sweep, which Atlanta has never done.
NFC Playoff teams:
Arizona, Atlanta (bye week), Green Bay, New Orleans, New York (bye week), Philadelphia.
NFC Championship Game:
Eagles @ Falcons.
AFC East
1. New England (14-2)
2. Buffalo (10-6)
3. Miami (7-9)
4. NY Jets (6-10)
Tom Brady is back, and unfortunately, the Patriots are as well. For the record, right now I don't think one of those two Pats losses will be Atlanta's visit to Foxboro - but that doesn't mean I won't change my mind the week before. Miami is a sexy preseason pick, but they'll be out of playoff contention much earlier than expected (starting with an opening loss to Atlanta, naturally).
AFC North
1. Pittsburgh (13-3)
2. Baltimore (11-5)
3. Cincinnati (6-10)
4. Cleveland (2-14)
Pittsburgh and Baltimore will be one of the more interesting battles. Even coming off a Super Bowl win, I find the Steelers a bit overrated - but yeah, I'm still picking them to win 13. If the Ravens had any semblance of a receiving corps, I'd feel better about picking them as a surprise division winner. But alas.
AFC West
1. San Diego (9-7)
2. Kansas City (8-8)
3. Denver (7-9)
4. Oakland (3-13)
This is almost a twin to the NFC West - four teams battling to suck the least. The big reach here is obviously Kansas City. Nobody else outside of Missouri die-hards are expecting a .500 season, but I think this team can be a miniature Atlanta/Miami of '08. (And yet I think Matt Cassel will prove to be a overpaid bust. Can't explain it.)
AFC South
1. Indianapolis (10-6)
2. Houston (9-7)
3. Tennessee (9-7)
4. Jacksonville (7-9)
This will give the NFC South a run as the most hotly contested division, and yet I can't imagine anything more boring than a Indy/Houston/Tennessee horserace.
Playoff teams:
Baltimore, Buffalo, Indianapolis, New England (bye week), Pittsburgh (bye week), San Diego.
AFC Championship Game:
Pittsburgh @ New England.
Super Bowl:
Atlanta v. New England.
Super Bowl Champion:
Atlanta.
Duh. What the hell did you think I was going to say?