One of my favorite people. And Tony Gonzalez!
There was a particularly enjoyable string of plays in last Sunday's Atlanta Falcons/Miami Dolphins matchup.
Halfway through the third quarter, Dolphins QB Chad Pennington skipped back, targeting Anthony Fasano on his right. Just before the ball reached its target, linebacker Mike Peterson stepped in, made the interception and rumbled 39 yards into Miami territory. Three plays later, Matt Ryan found Tony Gonzalez for six points.
Three Falcons involved there: Peterson, Ryan, Gonzalez. Before Sunday, three guys with a total of 17 Falcons games between them - all from Ryan's rookie season. Three guys who never called Michael Vick a teammate, who never called Bobby Petrino "coach." Three guys who are the work of general manager Thomas Dimitroff, a guy so good I barely flinched after he recently cut two of my favorite players (DJ Shockley, Thomas Brown). At this point, if the 'Troff makes a decision, I'm assuming it's the right one.
I've said it before, I'll definitely say it again: having a general manager smarter than me is a welcome addition to Falcons fandom. (I'm still pissed about taking WR Jammi German - he of the 20 catch career - before Hines Ward in the 1998 draft.)
The picks:
Oakland @ Kansas City (-3).
Two 0-1 teams that nevertheless looked better than expected last weekend. Well, better than
most
expected, because (cue high-pitched voice)
someone said the Chiefs would surprise
. (Notice how 90% of these columns are me cherry-picking past pseudo-glorys? That will never change.)
PICK: Kansas City

Houston @ Tennessee (-6 1/2).
As of last week's Tennessee/Pittsburgh game, I am officially sold on
Twitter
. I kicked off the NFL regular season on my couch, phone in one hand, Firefly tallboy in the other. As the game progressed, I kept updating my Twitter app, and it provided a bizarre sense of insight. Journalists like Peter King, Chris Mortensen and Adam Schefter were constantly weighing in, as were players like Chad Johnson and Larry Fitzgerald. So for the next night game, be sure to follow @joshmassey1 - I try to invent one new curse word an hour.
PICK: Houston

New England (-3 1/2) @ NY Jets.
Like all non-assholes nationwide, I was pissed after New England's come-from-behind win on Monday night. Leodis McKelvin, a pox on you and yours. But there was a monster silver lining embedded beneath Tom Brady's fuckbaggery: the Patriots might not be that good this year. Brady looked shaky, which is understandable; however, the rest of the team seemed to tremble as well, which is uncharacteristic. Maybe, just maybe, their defensive losses and total lack of running game will black hole their asses, collapsing them on top of themselves. At the very least, I'm hoping it takes a few weeks for them to regain form, just long enough for Atlanta's 9/27 Foxboro visit to end in an upset. (But give me a break with Brady not beating Sanchez by more than 3 1/2).
PICK: New England

Cincinnati @ Green Bay (-9).
PICK: CincinnatiMinnesota (-10) @ Detroit.
If Asher Allen picks off Matthew Stafford, I just might cry. (Tears of joy, mind you.)
PICK: DetroitNew Orleans @ Philadelphia (PICK).
One of the problems with holding season tickets is having to miss other great games. Like this one, with a hobbled Philly O against a swiss cheese New Orleans D, and a stout Philly D battling a fire-fighting New Orleans O. I'm siding with the defensive strength on this one, because 1) Kolb/Garcia should be able to pilot the Eagles just enough, and 2) I hate the f'ing Saints.
PICK: Philadelphia

Carolina @ Atlanta (-6).
Last week, I tailgated all day Saturday for UGA/South Carolina, spent the night in Athens, and went straight to the Georgia Dome for Atlanta/Miami. Around the third quarter, my neighbor turned and said "Y'all sure are quiet." Now here comes the test: was I quiet because of exhaustion, or was I quiet because everybody around me was a drunk fuckbag? The guy to my left does shots straight from a whiskey bottle every time the Falcons score (he offered, we declined). The guys to my right think they're hilarious, and that everybody within 50 feet deserve to hear their jokes. The guy two rows in front of my wears a Falcons jersey with "Crazylarry" on the back - and, well, Crazy Larry is kind of awesome. I like Crazy Larry. So will I become Crazy Josh this week with a more restful Saturday? Or will I realize I need to step up and get lower level seats next year, where the boring people tend to sit?
PICK: Atlanta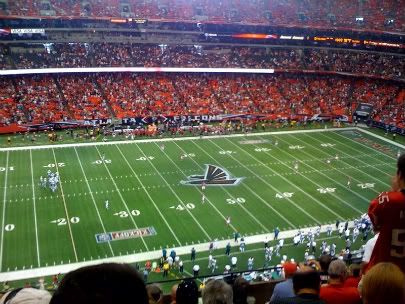 From last week's game. NOT lower level seats.
St. Louis @ Washington (-9 1/2).
Put a little faith in the Redskins, and last week's turd is what I get. In related news, I think there's a good chance
the Supreme Court forces Washington to change its mascot
(while I don't mind changing the mascot, I hate this kind of government intrusion). So what would the new name be? Bring back the Washington Senators, football version? Washington Freedom (gay)? Maybe the Washington Generals is fitting, as they always get spanked by New York teams. What about the Washington Snyders? You know he's thinking about it.
PICK: St. LouisArizona @ Jacksonville (-3).
Patrick Swayze, man. That actually sucks. Celebrity deaths don't really bother me that much - I mean, I
worshipped
Michael Jackson as a kid, but didn't really feel anything when he went. But Swayze always seemed like a truly nice guy, a dude who saw superstardom for a few years, but still remained married to his high school sweetheart until his last breath. And plus, the dude starred in
Red Dawn
,
Road House
and
Point Break
, three of the best "guy movies" of all time. (I'll forgive him
Dirty Dancing.
)
PICK: ArizonaSeattle @ San Francisco (-1 1/2).
Another death this week got swept under the Swayze rug a bit: Henry Gibson. Older folks best remember him for "Laugh In," but the images that popped in my head were the Illinois Nazi from
The Blues Brothers
, and the creepy neighbor in
The 'Burbs
. Of course, at this time it is most fitting to highlight his brief work in 1977's
The Kentucky Fried Movie
.
PICK: SeattleTampa Bay @ Buffalo (-5). PICK: Buffalo

Cleveland @ Denver (-3).
Did anybody enjoy Jay Cutler's Sunday implosion more than Denver fans?
PICK: Denver

Baltimore @ San Diego (-3).
"My name is Peaches, and I'm the best. All the DJs want to feel my breasts." Sorry, that
Coming to America
rap has nothing to do with this game - it has just been stuck in my head for the last hour. And no, I don't know why.
PICK: Baltimore

Pittsburgh (-3) @ Chicago.
Fantasy football update, because you care: So I'm a little nervous about the quarterback situation. Mr. Jay Cutler did not, er, cut it in Week One, throwing four picks to only one touchdown. My backup Carson Palmer only had two picks, but zero TDs. I believe it's tradin' time, because I have too much self-respect to go with free agents Matt Sanchez or Jeff Garcia. (I did win the first game, though - making it 21 months since my last loss. Bitches).
PICK: ChicagoNY Giants @ Dallas (-3).
Yeah, yeah, Tony Romo looked good last week, enough to make enough media guys, network execs, and top-heavy singers to collectively shit. But I'm pretty sure I could start at QB against Tampa Bay and come away with similar numbers. Let's see you do it this week, Ponyboy.
PICK: NY GiantsIndianapolis (-3) @ Miami.
The Colts are on the verge of signing Hank Baskett this week, and I would love -
love
- to see Baskett's wife, "Girls Next Door" star Kendra Wilkinson, interact with Peyton Manning.
PICK: Miami
Last week: 8-8-0
Overall: 8-8-0