In the midst of a rough week, I can always count on my best friend to try and lift my spirits. One who has been with me from the beginning, one who always lends a helping hand, one who knows what I need to hear when I'm down.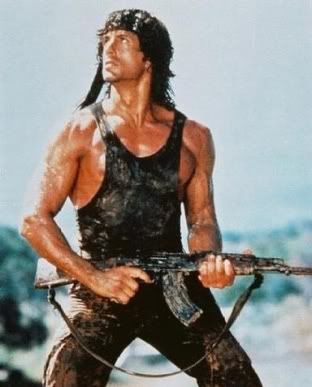 Yes, I'm referring to Sylvester Stallone. Obviously. On Monday,
Variety
announced
Rambo V
is coming to a theater near me, sooner than expected.
Nu Image/Millennium Films has greenlit the franchise's fifth installment, with Sylvester Stallone starring and directing, repeating his duties from 2008's "Rambo."

The upcoming project's storyline revolves around Rambo fighting his way through human traffickers and drug lords to rescue a young girl abducted near the U.S.-Mexico border. Production will start in the spring.
Ok, that's not quite the way
Stanicek
described it last night. He led me to believe Rambo was actually sitting at the border, in a rocking chair or something, picking off illegal immigrants with a sniper rifle - which of course was much cooler. But I'll gladly take a hard-R, blood-soaked version of
Taken
, because
Taken
was pretty cool and Stallone is only about a million times more talented than Liam Neeson. Heh-heh, more like Liam Nee
suck
.
To say I'll be there opening night is a given; to say I'll be stalking the set if it's within two hours of my sister's Arizona house is another one. For now, I will wait patiently, and resort to figuring out the eventual title.
Rambo V
.
Rambo: First Blood Part V
.
Rambo III Part 3
.
John Rambo
.
John
.
Rambo Kills The Mexis And Eats Their Tacos
.
The possibilities are endless. And yet I will still come up with every one.