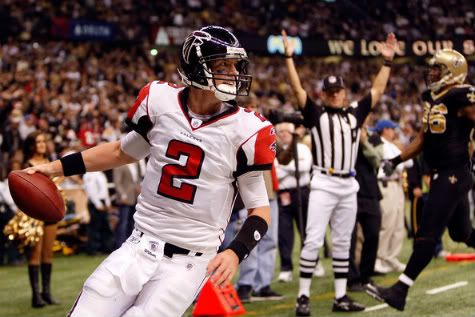 I hope to see this kind of thing many times on Monday night. I HOPE to.
The nightmare scenario could be upon us.
Each football weekend, I root for three things:
The Atlanta Falcons to win.
The Georgia Bulldogs to win.
The Georgia Tech Yellow Jackets to lose.
If Las Vegas is to believed, zero of those things will come to pass this weekend - and it would be the first time the anti-trifecta has been achieved in over two years (on September 8-9, 2007, Georgia lost to South Carolina, Georgia Tech beat Samford and Atlanta lost to Minnesota). Georgia and Atlanta are both double-digit underdogs, Georgia Tech is a double-digit favorite.
And with the Falcons playing on Monday night, the misery could be spread over three days.
Something needs to happen. A miracle has to occur. Pray for me.
The picks:Denver @ Baltimore (-3).
I screwed up plenty in my fantasy football draft - Steven Jackson, Steve Smith, not taking a QB until the 6th round - but all of those mistakes may be rectified by one Mr. Ray Rice, who I grabbed with the 147th overall pick. He's a legit top-5 running back now, and probably the only chance I have of three-peating and receiving more bushels of roses, monetary donations and coupons for free chicken from fans such as yourself.
PICK: BaltimoreCleveland @ Chicago (-13).
PICK: Chicago
St. Louis @ Detroit (-4).
Just taking a stab here, but this probably won't be the most watched game of the week. Even in St. Louis. (It definitely won't be in Detroit, as it has been blacked out. Ouch.)
PICK:
Detroit
Houston (-3) @ Buffalo.
Fans of "The Office" should check out
Subtle Sexuality
, which despite the name, is actually safe for work (turn your speakers down, though). Mindy Kaling, BJ Novak and Ellie Kemper, among others, have created a storyline completely separate from the show, and it's just as funny (also follow their characters on Twitter: @iamkellyfierce, @veRY_ANgelic and @iamerinhannon.) And I just found out Kemper, who plays the new secretary, is the author of
some
memorable
McSweeney's
entries
. CRUSH.
PICK: HoustonMinnesota @ Green Bay (-3).
Go Brett Favre's old team!
PICK: Green BaySan Francisco @ Indianapolis (-13).
EDSBS
was on fi-yah Thursday, about one of my favorite topics: the asshattery of Georgia's governor. "Sonny Perdue burrows even lower into the warm humus of gubernatorial stupidity, however, by opposing the lifting of the Sunday alcohol ban. Correct, non-Georgia readers: if you want alcohol on Sundays in Georgia, you must first drive to a bar, then pay a fifty percent markup over wholesale, and then wait until you sober up before you drive home because some turkey-wattled Baptist eighty miles away in Hookwormville thinks Crazy Old Testament God is going to turn him into a pillar of salt if the citizens of Atlanta get drunk in the safe, warm, and undoubtedly godless confines of their own house. Oh, but you could just buy on Saturday. It's not a big deal! THAT'S WHAT THEY SAID ABOUT THE GHETTOS OF WARSAW, COMMIE."
PICK: Indianapolis
NY Giants (-1) @ Philadelphia.
PICK: Philadelphia
Miami @ NY Jets (-3). PICK: MiamiSeattle @ Dallas (-9 1/2).
Let's make another list, and call this one "People I Want To Die A Lengthy, Painful, Horrible, Itching Death." 1. Keith Brooking. 2. Osama bin La - no, fuck it, Keith Brooking again. After last week's childish display against his former team (flapping his arms, celebrating a false start like a trailer park skank winning the goddamn lotto), I will be INFURIATED if Atlanta honors him after his career is (officially) over. He was an overrated turd when he was here, he's an overrated turd now, and I will lose my fucking mind if his banner is ever raised to the Georgia Dome rafters. Honestly, since I'm not alone in this, he would probably become the first player to be booed while getting his number retired.
These feelings are not new
.
PICK: SeattleOakland @ San Diego (-16 1/2).
And here we are. A 3-3 team getting a 16 1/2-point spread over anybody is absurd, until you hear
how Vegas has been doing this season
. The bookies can't set the spreads high enough this year, and I wouldn't be surprised to see one over 20 points as soon as the Saints/Rams matchup in two weeks.
PICK: San DiegoJacksonville @ Tennessee (-3).
White House spokesman Josh Earnest managed to increase my distrust of the Obama administration this week: he compared them to the New Orleans Saints.
From Politico
: "As our administration makes progress on the agenda that Washington has ignored for too long, we expect we'll get some news coverage of that progress that we like and some tough coverage that we don't. It's not unlike the New Orleans Saints, who are getting lots of good coverage of their perfect record so far — certainly better coverage than the [2-5] Redskins — but it doesn't mean the Saints have liked every story that's been written about them since training camp. It goes with the territory." Wait, did he just intimate Obama's presidency has been perfect?
PICK: Tennessee
9:42 p.m. update:

A few hours after this posted, The Wall Street Journal's James Taranto
reflected on this quote
as well. And I like his response better: "The New Orleans Saints are undefeated because they have focused on one thing: playing great football. Unless President Obama and his men get serious and focused on governing, they'll end up like the St. Louis Rams--winless, and nearly owned by Rush Limbaugh."
Carolina @ Arizona (-10).
Also, I find it interesting that in the article, a political analyst named (really) Sherry Bebitch Jeffe says, "There may well be almost an unconscious effort on the part of the media to give Obama a bit more slack because he is more likable,
because he is the first African-American president
" (emphasis mine). Wait, isn't that exactly the kind of statement that got Rush Limbaugh in trouble regarding Donovan McNabb?
PICK: CarolinaAtlanta @ New Orleans (-10).
I was almost excited to pick against Atlanta for the first time
since December 2007
. But 10 points - I mean, the Saints are due for a disappointing game, and double digits just seem like an overreaction to one bad Falcons outing. I don't know about a good guy win here, but I have to go with the old standby.
PICK: Atlanta
Last week: 6-6-1
Overall: 59-43-1