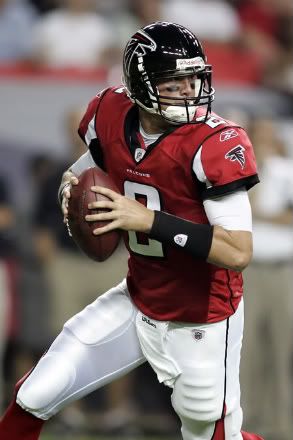 Remember in school when you were assigned the earliest possible date to present a paper, and it was just the end of the world? You had to
go first
, you had less time than your friends, and you weren't sure how you were going to handle it.
Well, that's me and the Falcons' early bye week. It caused more than a little teeth gnashing on my part, but that's all over now. We're done, we hit the field again on Sunday, and I won't have to spend another weekend in a Falconsless football wasteland. Everybody else, you have your dreaded date in front of you, but I'm proppin' my feet up.
The picks:
Minnesota (-9 1/2) @ St. Louis.
After four games, the Rams are giving up 27 points a game while averaging
SIX
. Repeat: less than a touchdown every four quarters, shut out twice in four games. They're actually worse than last year's winless Lions, who at least averaged 13.1 while giving up 25.3.
PICK: Minnesota
Tampa Bay @ Philadelphia (-14 1/2).
On Monday, I fled work at 5:00:01 and drove to the nearby Movie Tavern, one of those beers n' flicks places. I wanted to see
Zombieland
, and few movies go better with suds than one about the undead ripping throats out with their teeth. No real detail here except to say I really liked it, laughed out loud throughout, and will probably never see it again because one thing just bugged me to death. Remember when the girl says 1997 was a good year because she saw her first R-rated film, and name-checked
Anaconda
? They got the year right but the rating wrong -
it was PG-13
! If you know me, you probably realize little, seemingly insignificant details can completely derail an experience. I mean, I stewed on that son of a bitch for the next 30 minutes. A little fact-checking would have revealed a number of R-rated 1997 flicks they could have gone with;
Con Air
would have generated the exact same "oh man, that was bad" laugh that
Anaconda
got. No, I'm still not over it.
PICK: PhiladelphiaDallas (-8 1/2) @ Kansas City.
When will analysts stop sounding shocked at Tony Romo making a bad play? Last week, the TV guys seemed genuinely surprised when he fumbled for a Denver touchdown, and threw a pick to Champ Bailey in the red zone. Every motherfucker in Dallas owes Jessica Simpson an apology for calling her a jinx.
PICK: Kansas City

Washington @ Carolina (-3 1/2).
A bit of genius, from way back in April
: "Carolina is also due for a letdown after an over-achieving 2008. Unless, of course, they've secretly replaced interception machine Jake Delhomme with pick-free Sanka while I wasn't looking." Cutting and pasting old stuff is so much easier than thinking of something new.
PICK: Carolina (I mean, it's Washington; the Panthers aren't that bad)

Oakland @ NY Giants (-16 1/2).
This spread is taking into account that David Carr might be the Giants' starter. That's how bad the Raiders are.
PICK: NY Giants
Cleveland @ Buffalo (-6).
Congrats to former UGA, now Browns receiver Mohamed Massaquoi on leading the NFL in receiving yards last week. Looking at his current team, he might want to hold onto that good feeling as long as possible.
PICK: Buffalo
Cincinnati @ Baltimore (-8 1/2).
It was
announced this week
the 2011 Georgia/Georgia Tech game may be moved to Atlanta's Georgia Dome - a one-time-only morphing of the annual Thanksgiving weekend matchup into a season opener. If the message boards are to be believed, the idea is about as popular as New Coke. With semen in it. So as I stand here alone on the 50-yard-line, let me hear my own echo: BRING IT ON. Why would Georgia fans, in particular, be against this? It replaces a Tech home date, it opens the game up for tens of thousands of additional fans, and most of the added folks will be wearing red and black (
as will the stadium, in fact
). Plus, that game has turned into an impossible ticket when it's in Atlanta, as Tech's high school stadium holds about as many people as my car. And selfishly, I always have to race back from Florida on Friday in order to make kickoff; I won't mind being able to relax for a few days after my tryptophan coma. The primary argument seems to revolve around "tradition," the same thinking that's led to most of college football's horrible decisions. But is this series really such an untouchable, elite thing that can't be sullied?
PICK: CincinnatiPittsburgh (-10 1/2) @ Detroit.
Something tells me this will be the year to end Dallas and Detroit's stranglehold on Thanksgiving day. I just took a look down the schedule, and check these Turkey Day matchups - Packers @ Lions, Raiders @ Cowboys, Giants @ Broncos. Granted, the night game should be alright, but both day ones will probably have double digit point spreads (yes, even Oakland is worse than Dallas). Imagine an entire nation forced to spend a family holiday watching monkeys masturbate for six hours; that is exactly what Lions and Cowboys games are like this year. C'mon NFL, you're the number one attraction that day - give us something worthwhile.
PICK: Pittsburgh (Daunte Culpepper is starting, folks)

Atlanta @ San Francisco (-2 1/2).
More from April, regarding this game
: "Matt Ryan vs. Shaun Hill. Matt Ryan vs. Alex Smith. Matt Ryan vs. Damon Huard. Matt Ryan vs. TBD Rookie. Those are the four ways this game plays out. I like those four ways." Turns out it will be the first one, with Hill having led the 49ers to a surprising 3-1 record. What isn't surprising, though, is I still like the matchup. San Fran's three wins came against Arizona, Seattle and St. Louis - a combined record of 2-9 between them. Yes, their loss at Minnesota was fairly impressive, but I'm apparently alone in considering the Vikings a wildly overrated bunch. Atlanta is coming off a bye week, San Francisco running back Frank Gore will be out of action, and most of Atlanta's injured corps are back at full strength (Jerious Norwood and The William Moore among them). So why are the 49ers favored again?
PICK: Atlanta
New England (-3 1/2) @ Denver. PICK: DenverJacksonville @ Seattle (-3, which I made up because Vegas hasn't released anything yet). (PICK)
Two weeks ago, I suffered my first fantasy football loss in 21 months, and I'm doing a little better than expected. Very little cutting, my daily Firefly intake is down to two liters, and the fire department was only called twice. I'm sitting at 3-1, and bring it up here because I'm veering into David Garrard territory this week. My regular starter (Jay Cutler) is enjoying a bye week vacation, and my regular back-up (Carson Palmer) is facing the Ravens. So what to do, except start a guy who I never, ever, ever intended on ever starting, ever. Ever ever. If I can get out of this with a win, I will consider My Powers back at full-force, after a momentary lapse in judgment (starting fucking DeAngelo Hall over Gibril Wilson, and losing only because of that dipshit decision).
PICK: JacksonvilleHouston @ Arizona (-5 1/2).
Have I ever shared my DeAngelo Hall story, by the way, speaking of that tool? So I used to be a 5th grade teacher, and one Friday the librarian comes down to my room. "Josh, I know you're a Falcons fan. They're sending over DeAngelo Hall on Tuesday to read to some students, so you need to pick out a few and bring them down to meet him." Let's sidestep the obvious "DeAngelo Hall/reading" jokes, and move on. I selected my three guys, all wannabe football players in a wannabe soccer player community, and they were overjoyed - especially Delante, who hadn't figured out he'd probably never play because of severe asthma. Well, the Falcons were on Monday Night Football, and of course Hall ends up limping off the field. Early Tuesday, we get word he's not coming. That's fine, not what upset me - he got hurt, he needed whatever rehab he needed. But I sat down that night and wrote him a letter c/o the Falcons, explaining Delante's situation and how he had been crushed by the cancellation. "If you could find something, anything to send him, it would make his year." And nothing arrived. Not a jersey, not tickets, not a football, not even an autographed 8x10. Seriously, even a 9-word "Delante, sorry I missed you. See you soon, DeAngelo" index card would still be framed on that kid's wall. What an ass.
PICK: HoustonIndianapolis (-3 1/2) @ Tennessee.
A couple months later, the Falcons - in a completely unrelated promotion - gave me two tickets to hand out as I saw fit. So Delante and his mom got to see Tom Brady at the Dome. (I'm now wondering why I didn't use them myself, which proves I used to be a much better person).
PICK: IndianapolisNY Jets (-1 1/2) @ Miami. PICK: NY Jets

Last week: 9-5-0
Overall: 36-26-0