What happened to the Falcons last weekend is damned unfortunate.
Drive to the Atlanta airport, fly to Massachusetts, suit up for the game, go through pregame warmups - and then have the game cancelled at the last minute due to Boston
freaking out over another Lite-Brite
? I mean, they didn't even get to play the game, all because that awful cesspool of a city is full of spineless turds. The game didn't even happen.
Yeah, you f'ing hear me? It didn't happen.
The picks:
Oakland @ Houston (-8 1/2).
A couple weeks ago, I compared JaMarcus Russell slightly favorably to Alex Smith, saying at least the Raiders QB isn't the worst first overall pick this decade. After three games, I'm taking it back. If Smith were suddenly starting for the Texans this week, the line would be almost as high - and my pick would be the same.
PICK: Houston

Tennessee (-3) @ Jacksonville.
A divisional matchup within my least favorite division in football, matching two teams with a combined record of 1-5. I had to take a
Pulp Fiction
-style heart injection just to be able to make this pick. (This is usually the kind of game gambling or fantasy sports can spur interest in. Gambling is out because the final score could end up 3-0, 49-48, or anything in-between. And fantasy is out because, Maurice Jones-Drew and Chris Johnson aside, nobody owns any Titans or Jaguars).
PICK: Jacksonville

Baltimore @ New England (-2).
So I'm waiting to read the first "Joe Flacco is better than Matt Ryan" story. Honestly, I'm a little surprised it hasn't been written yet - because the case can be made, my friends. Don't get me wrong, I wouldn't trade Matty Ice for, uh, Joey Flack any day of the week, but this is going to be an interesting battle for many years. If the Ravens win this game, expect the storyline to debut on Monday.
PICK: Baltimore

Cincinnati (-6) @ Cleveland.
PICK: Cincinnati
Seattle @ Indianapolis (-10).
PICK: Indianapolis
NY Giants (-8 1/2) @ Kansas City.
The worst thing about Atlanta's bye week is that I miss my seat buddies. Particularly this guy, who brings a certain joie de vivre to every game.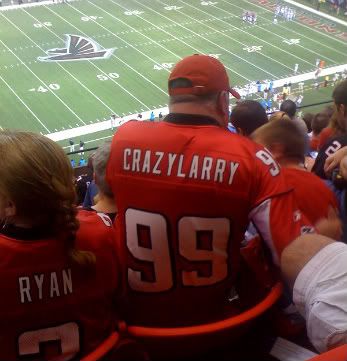 I just wish I could remember his name.
PICK: NY GiantsDetroit @ Chicago (-10).
Last week's story was cute, as everybody treated the Lions like they had just won a Special Olympics gold medal. But it doesn't continue in Soldier Field.
PICK: Chicago

Tampa Bay @ Washington (-7 1/2).
Sorry, but are the Redskins good enough to be favored by a touchdown over
anyone
? I'm counting college teams in this as well.
PICK: Tampa Bay
NY Jets @ New Orleans Saints (-7).
"Go Jets." Now, the Listerine.
PICK: NY JetsBuffalo (-1) @ Miami.
So yeah, I hoped the Falcons wouldn't draft Matt Ryan. I was wrong. For once. Instead, I pushed Atlanta to take
"either Joe Flacco or Chad Henne."
Well, the storylines of Ryan and Flacco are well-cemented; this game may start Chad Henne's. The Dolphins, who famously passed over Ryan, will be starting Henne on Sunday. And if he's a bust, Miami fans will be charting Matty Ice with vomit-inducing regularity for years to come.
PICK: MiamiSt. Louis @ San Francisco (-9 1/2).
So, my god,
Year One
. Never been a huge Jack Black fan, and Michael Cera's one-note is wearing as well - but it's from the director of
Caddyshack
,
National Lampoon's Vacation
and
Groundhog Day
. With Paul Rudd, David Cross and the yes-one-note-but-not-worn-out Christopher Mintz-Plasse in supporting roles. The producers of "The Office." And what does all of that talent equal? One laugh. Really, no exaggeration. One laugh. And even then, it's a stupid Jack Black gag about jumping off a roof with not enough rope, something that's usually the worst joke in stuff these guys create. How does that happen? How do so many talented people come together and produce such a big dump? Hollywood's version of the Washington Redskins, I guess. (Bringin' it back to football with a zinger!).
PICK: St. LouisDallas (-3) @ Denver.
Vegas still thinks Dallas is pretty good. Huh.
PICK: Denver

San Diego @ Pittsburgh (-6).
Earlier this year, my dad's Decatur, GA street was partially shut down because of a movie filming a block away. I did some quick internet research, and found it was a zombie movie starring Woody Harrelson and the chick from
Little Miss Sunshine
. I mean, stupid, right? Straight-to-video, obviously. So I didn't even bother walking the 50 yards to the set and at least take a peek. Here we sit a few months later, and I can't freaking wait to see
Zombieland
. I mean, dude, that movie looks The Tit. Ten years ago, I would have clawed my way into an extra job, which is how I ended up on the
Scream 2
set and on-screen in
Remember the Titans
. But no, an actually cool movie filming two minutes away in which I could have theoretically been
A ZOMBIE
, and I shrugged it off to probably go home and play Madden. Goddammit.
PICK: Pittsburgh

Green Bay @ Minnesota (-3 1/2).
There exists an ever-growing list, with a simple heading at the top: "Reasons you're an asshole." If you agree with anything on it, you can be most assured you are, incontrovertibly, an asshole. The latest entry, marked #65,693, is "You're rooting for the Vikings to beat the Packers." (For the record, I am an asshole with flying colors, but not nearly enough of one to pull for Brett Favre in this game).
PICK: Green Bay

Last week: 9-7-0
Overall: 27-21-0