With about eight minutes to go in the first half of last week's Falcons-49ers game, I looked at my brother and said, "I want 21-10 at halftime."
Atlanta had jumped out to a quick 14-0 lead, but San Francisco scored 10 unanswered and took the momentum back. A minute later, Roddy White turned on the afterburners and went 90 yards for a score.
"I mean, uh, I want 28-10 at halftime."
Two minutes later, Michael Turner bulldozed for his second touchdown of the day.
"Ok, screw it, I want 35-10."
With 1:14 left on the clock, Turner made it a first half trifecta. On route to a final score of 45-10, San Francisco's worst home loss since 1967.
Yes, the 2009 Falcons have already taught me their first lesson: don't put limits on what to ask of them. So now I want 75 points against Chicago on Sunday night, with the Bears shut out. And Tony Gonzalez (fantasy TE extraordinaire) to go for 250 and 3 TDs. And the game ball. And ice cream waiting for me at my seat - on the bench. And Matt Ryan to be my best friend. And a 51% ownership stake in the team, just because Arthur Blank likes "the cut of my jib." Because my jib does have a nice cut.
Not too much to ask for, I don't think.
The picks:Kansas City @ Washington (-6 1/2).
Jim Zorn may become the first coach to get fired
during
a game. The Chiefs are 0-5, but they're not a Rams-level 0-5. Four of their first opponents: Baltimore, Philadelphia, NY Giants, Dallas (the loss to Oakland is inexcusable, yes). But something - oh, I don't know, maybe Washington's complete ineptitude - tells me the Chiefs not only cover, but get their first win of the season.
PICK: Kansas CityHouston @ Cincinnati (-5).
It's especially odd because of all the rain we've been having, but it got dusty in my house around 4 p.m. last Sunday. I mean, really dusty. The Bengals had just finished upsetting the Ravens, and the team was taking turns celebrating with defensive coordinator Mike Zimmer, only a few days after his wife's sudden death. Just stupid amounts of dust, out of nowhere.
PICK: CincinnatiCleveland @ Pittsburgh (-14).
Well, it's safe to say UGA's own Mohamed Massaquoi did not lead the NFL in receiving for the second week in row. Of course, that's hard to do when your QB completes two passes - all game. (And Brady Quinn is
still
the back-up. See, I
do get things right
once in a while).
PICK: PittsburghBaltimore @ Minnesota (-3).
And the Vikings get exposed. I'm not one to let go of a preseason prediction easily, and I'm riding the "Vikings are overrated" train as long as I can. This is really the team's first legit matchup, and I see Flacco and Co. - beaten and bruised, and out for blood - putting a hurt on Brett Fav-re.
PICK: BaltimoreSt. Louis @ Jacksonville (-10).
You typically won't see a team lose by 41 points one week, and be favored by double digits the next. But those are the kinds of small miracles provided by the St. Louis Rams.
PICK: St. Louis

NY Giants @ New Orleans (-3).
So obviously this weekend's game is a big one for the Falcons. NBC, prime time, all eyes on them. I've been looking forward to this day for a long time, with dreams of hitting the tailgate before the sun is at its highest point, spending all day Sunday making sure I'm worthless on Monday. The ball dropped a few days ago, however, when I learned the Georgia Dome doesn't open its parking lots until five hours before kickoff, specifically 3:20. So my god, I'm only limited to roughly 270 minutes of quality parking lot-standing until I have to head to the stadium? What the hell? (Tailgating, as we now know, is the one thing college does infinitely better than the pros). I bring this up here because of the silver lining: now I have some time to watch Giants/Saints before heading to my concrete mecca downtown. Go you freakin' hairy Giants, go.
PICK: NY GiantsCarolina (-3) @ Tampa Bay.
I didn't expect these teams to be hugely competitive with Atlanta, particularly Tampa Bay. However, I never expected I wouldn't give two shits about them so early in the season. The NFC South is a two-team race now, no doubt about it.
PICK: CarolinaDetroit @ Green Bay (-13 1/2).
PICK: DetroitPhiladelphia (-14) @ Oakland.
Ok, so I've made no secret that Sylvester Stallone's
The Expendables
is my most anticipated film of 2010. And I posted the trailer as soon as my feeble fingers would allow, before it was eventually taken down by the studio. Now, the true reaction: "Um, cool." If you saw it before it disappeared, well, it just looked sorta silly. Stallone was cool, Statham was Statham, Li appeared to have no grasp of English and was just saying his lines phonetically - but that trailer didn't give any sense of a good story flowing underneath. THAT SAID, I'm not lowering my five bars of excitement yet. I thought
Rocky Balboa
would be disappointing. I thought
Rambo
would be outright awful. And yet both of were Ten Best material of their respective years (really). In his latest comeback incarnation, Stallone has made consistently good decisions and showed real filmmaker chops - I'm just hoping this was a hastily edited thing to appease the money guys.
PICK: PhiladelphiaArizona @ Seattle (-3).
What the hell is up with
this
? Spraying champagne because you won a division series? Hey Phils - you
won the World Series
last year. Act like you've been there before - especially because you have.
PICK: SeattleBuffalo @ NY Jets (-9 1/2).
Speaking of baseball, I recently remembered a little $5 bet I laid before the season. "Teams to compete in the World Series: New York/Los Angeles." My five bucks will net me a cool $100 if the Dodgers can get their heads out of their asses. (My other $5 bet, Grady Sizemore to lead all of baseball in home runs, did not quite come to pass).
PICK: BuffaloTennessee @ New England (-9).
So I do the USA Today crossword every day, finishing it about 70% the time. I do it all in permanent ink, because I'm an egotistical jackass. That bit me on the rump this week with this clue: "2002 Tom Hanks film." So, I mean, of course I knew that. In big black letters: "C-A-T-C-H-M-E-I-F-Y-O-U-C-A-N." Fit perfectly. About 10 confusing minutes later, I realized my error: Hanks had another 2002 film. R-O-A-D-T-O-P-E-R-D-I-T-I-O-N. Same number of letters. And, of course, the right answer. (Me realizing I missed any kind of movie question is not a pretty sight. It's my sole character flaw).
PICK: New EnglandChicago @ Atlanta (-3 1/2).
So I think I have a new favorite Falcon. Maya and I dorked out once again and went to a Thursday night taping of "Falcons Face-to-Face," a weekly interview show on a local news channels. Roddy White was the featured guest - and man, he was awesome. I had never seen him talk at such length before; he was surprisingly funny, and nice as hell when we met him afterward.
Maya:
Myself:
Oddly enough, that was his helmet he wanted me to sign. Weird.
Ok, I'm fully aware he's smiling more in the picture with her. And that's probably because I didn't put a boob on him.
PICK: AtlantaDenver @ San Diego (-3).
Still, it's not the coolest picture I took with somebody this week.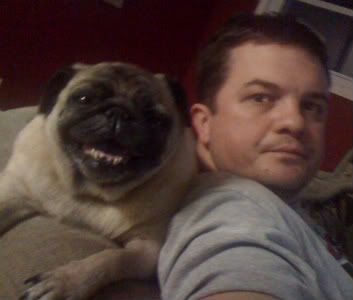 Represent.
PICK: DenverLast week: 9-5-0
Overall: 45-31-0