The wheels are coming off. And sadly, I'm not sure which part of my NFL season that refers to.
There's my actual team, the Atlanta Falcons. Even though I
predicted them to be 5-4 at this point
, I'm still disturbed they're
actually
5-4. While 2008 was light on injuries, the team has been smashed this year. First and second round picks Peria Jerry and William Moore: out for the season. Scorching receiver Harry Douglas: out for the season. RB Michael Turner is, of course, out anywhere from a game to the rest of the year, while position mate Jerious Norwood has already missed a month. And this week's injury report reads like a Who's Who of the Falcons: Turner, Norwood, Brian Finneran, Erik Coleman, Roddy White.
Unfortunately, another team has been battling similar injury issues: The Berman Stroke Hopers, my fantasy squad. Leading tackler D'Qwell Jackson and running back Ronnie Brown, done for the year (Brown hurts especially bad, as I just traded for him just two weeks ago). RB Brian Westbrook and DE Terrell Suggs are likely on the shelf, as well. Jay Cutler isn't technically hurt, but he's playing like a paraplegic. Now I'm still in second place, because I kick ass, but I simply pine for what might have been. But I did just trade for Matt Ryan, which couldn't possibly be heart over head.
And finally, my dream season of picking games is crumbling around me. Just two weeks ago, I was batting .582 - enough to scare any casino. Alas, with an 11-18 record over the past 14 days, I'm on a downward spiral. I mean, .541 ain't the direction I want to be going in. This might be my last chance to plug holes before going under.
The picks:Buffalo @ Jacksonville (-8 1/2).
The football equivalent of Tylenol PM.
PICK: JacksonvilleCleveland @ Detroit (-3 1/2).
Mohamed Massaquoi vs. Matthew Stafford. So at least UGA fans have something to pay attention to, even if nobody else does.
PICK: DetroitIndianapolis (-1) @ Baltimore.
Captain Obvious alert: Peyton Manning is nasty good. I mean, he should win two MVPs this year - the Colts are 9-0, but very honestly could be 1-8 without him. I can't think of another player - ever - who has been more singularly valuable to a team. Of course, Falcons/Giants is
my
game of the week, but I'm really, really looking forward to this one as well.
PICK: IndianapolisPittsburgh (-10) @ Kansas City.
PICK: Kansas City
San Francisco @ Green Bay (-6 1/2).
So I did get a good 10 seconds of face time with Stephen King last week, exchanging partial sentences and a handshake. He was in town for a book signing, and I only had to wait four short hours for him to scribble his name on the title page. WORTH IT. And hey, we even took a picture together!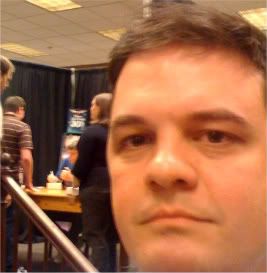 Sort of. (I would have smiled, but didn't think my handheld-while-walking iPhone picture would even work that well).
PICK: Green Bay
Seattle @ Minnesota (-10 1/2). PICK: MinnesotaAtlanta @ NY Giants (-7).
When I was a college freshman, and far more interested in being respectable than I am now, I spent Sunday nights in Christian surroundings - at church, at fellowship, at Bible study, etc. A number of years later, a friend recalled she would avoid me if the Falcons had lost that day (and in 1994, that was quite a lot). Apparently I couldn't just shrug off the disappointment, and tended to carry it around for a few hours afterward, extending the misery to those around me. Well, I hadn't thought of that in a long time, until last Sunday. When the game was obviously lost for the Falcons, Maya announced her Sunday night plans - or at least, what she
wasn't
doing that night. "I'm not hanging out with Josh. He'll be in a bad mood the rest of the night." It's nice to know I've matured over the years.
PICK: AtlantaWashington @ Dallas (-11).
Perhaps it's the liquor talking (it
is
after 12!), but a distinctive "upset" odor emanates from this one. No, it's probably the liquor.
PICK: WashingtonNew Orleans (-11) @ Tampa Bay.
One of my co-workers is a very sweet older woman, a regular churchgoer, and about one of the nicest people you'll ever meet. She always makes sure to ask me about my weekend football plans, even though I'm certain she couldn't care less. But today she surprised me a bit when, in her sweet southern lilt, she says, "Lord, I hope somebody just beats the shit out of the Saints." She's awesome.
PICK: New OrleansArizona (-9) @ St. Louis. PICK: St. LouisNY Jets @ New England (-10).
Know how I know you're hardcore? You steal an idea from
Fight Club
, and make Tyler Durden
look like a pussy
in the process. Seriously: "Mejia said Castillejos recounted how the gang cut off its victims' heads, arms and legs, removed the organs, then suspended the torsos from hooks above candles that warmed the flesh as fat dripped into tubs below." I want to see a list of that club's rules.
PICK: New EnglandSan Diego (-3) @ Denver.
At what point does a still-alive Andy Kaufman pop out from behind a curtain and go, "No, really you guys - we're just
fucking with you
."
PICK: San Diego
Cincinnati (-9) @ Oakland.
So as mentioned above, I traded for Matt Ryan this week - leaving me with Ryan, Carson Palmer and Jay Cutler on my roster. Obviously, Cutler is dead to me. And I know I should be starting Palmer this week against the Raiders - but I
really
want to start Ryan. Head or heart. Head or heart. Head or heart.
PICK: CincinnatiPhiladelphia (-3) @ Chicago.
We all know the answer to that one. Because I'm an idiot.
PICK: PhiladelphiaTennessee @ Houston (-4 1/2).
For the second week in a row, ESPN has gotten cutesy with their Monday Night Football selection, and come up with a less-than-stellar game. It was Browns @ Ravens last week. Browns vs. old Browns - get it!? Now we get Old Oilers vs. Team That Plays in the Oilers' Old City! Well, the MNF ship will certainly be righted next week with New England in New Orleans (oh, that sounds a little cutesy in itself).
PICK: TennesseeLast week: 6-10-0 (including last night's game)
Overall: 78-66-1