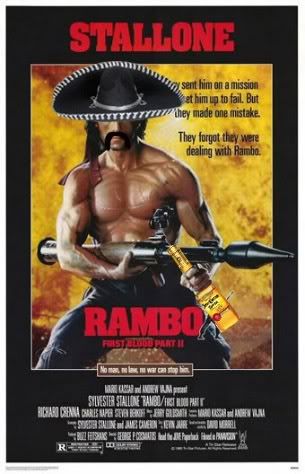 Well, Rambo has a hankerin' for burritos again.
To recap:
On August 30th, Variety
announced
Rambo V
was on the way. The storyline, they reported, involved "Rambo fighting his way through human traffickers and drug lords to rescue a young girl abducted near the U.S.-Mexico border." My obligatory post about the development
is here
.
Just a week later, multiple reports also had
Rambo V
on the way, but with a completely different premise: Rambo hunting a perhaps-superhuman beast through the wilds of Alaska. My obligatory post about the development
is here
.
Well, Craig from
StalloneZone
(the only website with a name better than this one) received this e-mail a few days ago, from none other than Mr. Stallone himself:
Hi Craig,





This is from Sly to your followers:





To all the loyal SZoners out there,





I'm letting you know that Rambo has changed course and the story about




hunting the man/beast will be done using another character in the lead. RAMBO himself will be heading over the border to a violent city where many young women have vanished.





There will be blood.





Best, Sly Stallone
Translation: we're back to the premise Variety described, with Rambo crossing the border and kickin' some Mexican trafficker ass.
LOVE IT. The super-soldier, or whatever that sci-fi sounding premise was, just struck me a little wrong. I mean, of course it would have kicked ass, but taking an established series into a new genre was a bit hinky.
This plot allows a natural transition from the last film (when Rambo returned to Arizona), and continues the series' focus on real world issues. (Think about it. The first film dealt with Vietnam vets back home, the second with prisoners of war left behind, the third with Afghanistan, the last one Burma).
And, my God, "there will be blood." You realized what that one sentence did to me, right? Suffice to say, the washing machine is running.
I want this.