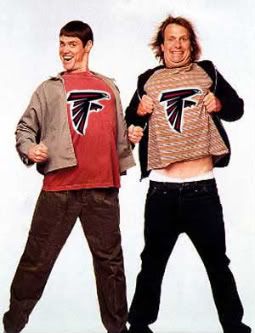 So you're telling me there's a chance!
Yes, your 6-7 Atlanta Falcons still have a shot at the 2009 postseason. There are just three small things that need to happen.
1) The Falcons win their last three games, @Jets, vs. Bills, @Bucs.
Verdict:
Do-able, especially if Matt Ryan can come back sooner than later. But the Jets seem intent on starting Matt Sanchez, so it might not matter - I'll actually take Chris Redman over Sanchez this weekend.
2) The Giants lose two of their remaining three games, @Redskins, vs. Panthers, @Vikings.
Verdict:
Wish we could reverse that. Minnesota will likely sit their starters in Week 17, but hell, Tarvaris Jackson could beat Eli Manning. This could easily happen.
3) The Cowboys lose their last three games, @Saints, @Redskins, vs. Eagles.
Verdict:
Are you kidding? Money in the bank. This is the least of the Falcons' worries.
The picks:Indianapolis (-3) @ Jacksonville.
The only reason I want the Jaguars to make the postseason isn't exactly a noble one. I'm just dying to see a playoff game that isn't sold out, and the NFL's resulting spin will be delicious.
PICK: IndianapolisDallas @ New Orleans (-7 1/2).
There isn't any strong belief 'round these parts that Atlanta gets to the playoffs, but I think hope remain alive after this weekend - meaning the Saints keep their undefeated season alive. And thus, let's lay the law now: ZERO Katrina jokes for the next four days. These are the miles I'm willing to travel for a playoff spot, and I doubt you realize the extent of the sacrifice.
PICK: New Orleans
New England (-7) @ Buffalo.
But it would be just like the Saints to lose the one game I want them to win. Those jagoffs deserved to get flooded.
Oh, shit.
Flooded with love! FLOODED WITH COMPASSION!
PICK: New England
Arizona (-12) @ Detroit.
PICK: Arizona

Miami @ Tennessee (-4).
"Mel Gibson will direct and Leonardo DiCaprio will star in an untitled period drama about Viking culture." I woke up Tuesday and assumed I had just dreamed such awesomeness. But nope,
it's real
, and written by the guy responsible for
The Departed
. Ultraviolent Viking mayhem, Gibson-style? SIGN ME UP.
Expendables
aside, will there be a better movie in the next 100 years? Doubtful.
PICK: Miami
Cleveland @ Kansas City (-2). PICK: ClevelandHouston (-13) @ St. Louis.
PICK: Houston
Atlanta @ NY Jets (-6).
In
Sports Illustrated
this week: "The Falcons aren't dead, but they need three wins and the continued collapse of the Cowboys and Giants. It's not implausible when you look at the schedule. The lynchpin for everything in Atlanta is finding a way to win at the Jets this week. If they Falcons get that one, the rest might just fall like dominoes." I DON'T NEED THE ENCOURAGEMENT.
PICK: Atlanta
San Francisco @ Philadelphia (-9).
Please, Atlanta has a great shot this weekend. Just look at the short list of players who either had limited participation in Wednesday's practice or didn't take the field at all: John Abraham, Jamaal Anderson, Jonathan Babineaux, Sam Baker, Harvey Dahl, Chris Houston, Todd McClure, Matt Ryan, Will Svitek, Michael Turner and Roddy White. No big names on there, nope.
PICK: San FranciscoChicago @ Baltimore (-11).
Color me devastated. Movie Tavern, an alcohol-serving theater chain that gets 99% of my film-going business, introduced
"Retro Cinema"
last month. Each week, they play a different "classic," letting people see their old favorites on the big screen again. Well, this week, they're playing
Die Hard
- which I've never seen in a theater. And in the most predictable happening of 2009, they're not doing "Retro Cinema" at their Georgia locations. The closest showing is in Lexington, KY - and don't think for a second I haven't thought about a road trip. Anybody want to split the gas with me?
PICK: ChicagoOakland @ Denver (-14).
And your starting quarterback for the Oakland Raiders, Charlie Frye! No, really - just two years after drafting JaMarcus Russell with the first overall pick, the Raiders are starting CHARLIE FRYE. And Russell is healthy! Ryan Leaf is cracking his first smile in 10 years today, knowing that he finally has a partner in the "biggest bust ever" conversation.
PICK: DenverGreen Bay @ Pittsburgh (PICK).
Oh wow, look at these numbers. Let's compare Russell's third year in the NFL (this year) to Leaf's third year (2000). Games started: Russell 9, Leaf 9. Completion percentage: Russell 48%, Leaf 50%. Yards: Russell 1,138, Leaf 1,883. Touchdowns: Russell 2, Leaf 11. Interceptions: Russell 10, Leaf 18 (Leaf had over 100 more attempts). Sacks: Russell 30, Leaf 31. QB rating: Russell 47.7, Leaf 56.2. Are we ready to put a new face on the Bust Hall of Fame?
PICK: PittsburghCincinnati @ San Diego (-6 1/2).
So I almost changed this pick to Cincinnati after
Chris Henry died
this morning. Could the Bengals show up with more to play for? Perhaps, but when Sean Taylor died in 2007, Washington's next game was a sloppy loss to the Bills (after that, they tore off a four-game winning streak). The stories aren't exactly parallel - Taylor was certainly a more productive player, more beloved
by fans
, and I assume players as well. All I know is I wouldn't touch this game as a gambler. There's no telling how a team reacts to something like that.
PICK: San DiegoTampa Bay @ Seattle (-6 1/2). PICK: SeattleMinnesota (-9) @ Carolina.
PICK: CarolinaNY Giants (-3) @ Washington.
Yeah, if you didn't pick up on it, I'm a huge Redskins fan the rest of the way. Not only do I need them to take care of the Giants and Cowboys for us, I'm actually starting Jason Campbell in my fantasy league this week. So yes, it's gotten to that point. Matt Ryan is likely on the bench, Carson Palmer is facing the Chargers - I mean, it's my logical choice, right? At home against a porous Giants secondary? OH GOD, WHAT AM I DOING?
PICK: WashingtonLast week: 8-8-0
Overall: 109-98-1