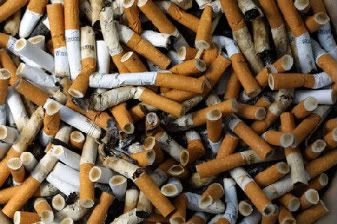 Matt Ryan out with turf toe. Michael Turner suffering a high ankle sprain. Jerious Norwood still favoring his hip. And the Eagles coming to town.
No, I'm cool. What, a cigarette? Never actually smoked one bef - fffft. Oh, wow, that is nice. Fffft. I see the draw. Fffft. Ok, where was I? Vick back in town. O-line banged up with Chris Redman starting. McNabb healthy. Playoffs on the line. Winning season on the line.
Ffffffffffffffffffffffffffffffffffffffffffffffffffffffffffffft.
The picks:Denver (-5) @ Kansas City. PICK: DenverHouston @ Jacksonville (PICK).
I was down in Jacksonville over Thanksgiving, and my uncle began talking about the Jags' playoff chances. Maybe the snicker was audible, but he suddenly got defensive. They can be great on certain days, a winnable schedule the rest of the way, three straight wins, etc. And then it hit me - he was serious. Sure enough, I soon realized the Jaguars actually have a winning record! Were you told about this? I follow the NFL pretty closely, but would have guessed they were 3-8 if asked a few days ago. Jacksonville would actually be in the playoffs if the season ended today! What the hell.
PICK: Jacksonville (obviously)
Tennessee @ Indianapolis (-6 1/2).
Game of the week, I guess, but we've entered the part of the season where I lose all interest in the AFC. It's all about Atlanta's playoff race now, and this game doesn't affect anything.
PICK: Tennessee
Oakland @ Pittsburgh (-14 1/2).
PICK: PittsburghPhiladelphia (-5 1/2) @ Atlanta.
So Michael Vick returns to the Georgia Dome, in a game I began freaking about 15 seconds after the Eagles acquired him. Now that we're here, just two days away, that's an angle I couldn't care less about. Obviously Vick's invisibility thus far plays a major part, as there's little chance he affects the game's outcome. But I just don't see him adding any electricity to the atmosphere -
some people
will cheer,
some people
will boo, but I'm willing to bet 70%+ just sits on their hands with indifference. For most Falcons fans, the important issue is the actual game, rife with playoff implications. The team's two marquee players - Matt Ryan and Michael Turner - will be on the bench, but so will some of Philly's biggest names (Brian Westbrook and Desean Jackson). I've read some fans practically calling this a not-a-chance matchup, but that's foolish. McNabb does ok, Vick does a little more than usual, but Falcons win.
PICK: AtlantaDetroit @ Cincinnati (-13).
So my question: When I get to my Falcons seats on Sunday afternoon, will I have to step over the strewn-about bodies of still-schnockered Tide and Gator fans? I certainly would not want the task of cleaning up the Georgia Dome between Saturday night and Sunday morning. As my dad used to say, "That's why you go to college. You dickhead."
PICK: DetroitNew Orleans (-9 1/2) @ Washington.
That whole "Falcons will win the NFC South" thing I said a few months ago? About that.
PICK: New OrleansTampa Bay @ Carolina (-5 1/2).
Well, thanks to Stanicek for sending me
this link
, and causing me to waste my entire morning compiling my "Best Movies of the Decade" list. I'm sure I will be slapping it up here at some point over the next month, but now comes the unenviable task of editing myself. My initial scribblings produced almost 100 titles, and I have
neither the time nor the inclination
to do that much work. So 50 best? Thirty best? And do I put
Rambo
as high as I think I want to (it's already my most rewatched movie of the decade)? THE DECISIONS.
PICK: Tampa BaySt. Louis @ Chicago (-9).
So obviously, I have been following the lazily-named "
Climategate
" scandal with great interest. I'm one of those dastardly deniers, and am thrilled the rest of the world is beginning to wake up. And while the leaked e-mails' importance is arguable, they have proven one thing beyond a doubt: "global warming" is most definitely a political issue, not an environmental one. Because if you truly believe man is making the planet warmer and this will lead to catastrophe, wouldn't you treat these e-mails as
good news
? You know, like, maybe this awful stuff isn't happening after all? What I've heard from the warming faithful, though, is gnashing, disbelief and anger. It's like learning you don't actually have cancer, and getting angry about it. "But doctor, you told me I was dying, and I believed it! Dammit!"
PICK: St. LouisSan Diego (-13 1/2) @ Cleveland.
PICK: San DiegoSan Francisco @ Seattle (PICK).
Awesome
. Oh, and completely frightening and gross.
PICK: San FranciscoDallas (-2 1/2) @ NY Giants.
Whoever loses, Atlanta wins.
PICK: NY GiantsNew England (-4) @ Miami.
PICK: MiamiMinnesota (-3) @ Arizona.
NBC "flexed" Vikings-Cards into its Sunday night broadcast two weeks ago, meaning they punted their original game and brought in a more ratings-friendly one. And yeah, Favre - I know. But this game is between two mostly-cemented division winners, and holds next to no drama. At least not nearly as much - and you knew this was coming - as the Falcons-Eagles game! Real playoff implications, seasons on the line, Vick back in Atlanta, but we have to cowtow to #4 and all. I hate that guy.
PICK: MinnesotaBaltimore @ Green Bay (-3). PICK: BaltimoreLast week: 6-10-0
Overall: 95-80-1