Quarter Back is a monthly feature looking back at the movies of 25 years ago. One movie will be watched for the first time, one will be revisited.
Where the hell did January go?
Well, I have an excuse for this post showing up a few days late -
this new 46-inch monstrosity
, combined with my desire to rewatch "Lost" in its entirety before Tuesday's premiere (I failed, still mired in the Nikki/Paolo days of Season 3).
Really, though, I should have torn myself away and watched
Tuff Turf
in time. There's no justification for ignoring the classics.
Featured Movies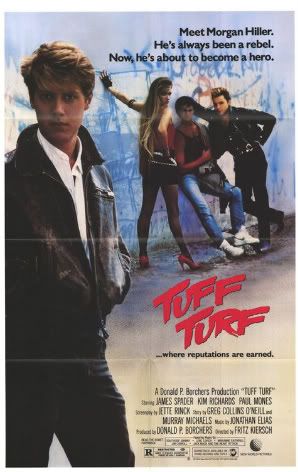 Tuff Turf
Seen it before?:
No.
Release date:
January 11, 1985
Actors:
James Spader, Kim Richards, Robert Downey, Jr.
Director:
Fritz Kiersch (
Children of the Corn
,
Gor
)
Box office:
$9.4 million (#89 in 1985)
"Meet Morgan Hiller. He's always been a rebel. Now, he's about to become a hero." To which I say, meet Morgan Hiller. He's always been an asshole. Now, inexplicable comma, he's about to be beat up by other assholes.
This 1985 gem stars James Spader, just before he would become the Bill Zabka of the late '80s, infecting his sleazy, yuppie, Andrew McCarthy-hating charm in
Pretty in Pink
,
Mannequin
and
Less Than Zero
. Oddly enough, though, each one of those characters was more likable than the supposed "hero" of this movie.
He's a tough guy! He wears sunglasses in school! He treats his legitimately caring parents like crap! The teachers just don't understand why he doesn't get their vibe! He's got a totally bitchin' 10-speed!
And the movie thinks we
don't
want to see this guy punched in the face.
Anyway, a seemingly long story short: Spader is the new kid in school, gets on the bad side of the lamest, whitest gang in movie history, falls for the gangleader's gal, gets kicked and punched, and befriends a drummer played by Robert Downey, Jr. Yes, Downey, Jr. in his
Back to School
/"Saturday Night Live" days, showing zero of the Undeniable Awesome that's made him a star today.
Kids, rent this and make fun of your parents for once thinking it was cool.
Grade: C-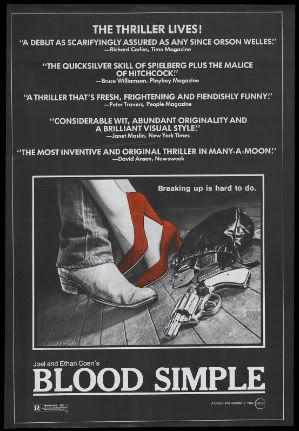 Blood Simple
Seen it before?:
Well, I thought I had. But I didn't remember a thing.
Release date:
January 18, 1985
Actors:
M. Emmet Walsh, Frances McDormand, John Getz
Directors:
Joel and Ethan Coen (
Raising Arizona
,
Fargo
,
The Big Lebowski
)
Box office:
$2.2 million (#138 in 1985)
Blood Simple
would probably be a forgotten piece of '80s noir, but it lives on due to the braintrust behind it. Twenty-five years later, Joel and Ethan Coen have eight Oscars between them, and a filmography of classics both cult and mainstream. But it all started here, in a now recognizable world of small-town murder and deceit.
Describing the plot does the film a disservice, but some Coen mainstays are already present: hit men, violence by way of confusion, Frances McDormand, gunplay in empty fields, the occasional flash of gore. Really, this seems like a batting cage warm-up prior to the World Series of
Fargo
.
It doesn't have the slickness of the Coens' later efforts, and the film pulls up a little lame with a charisma-free leading man (Getz, long before the Coens could pull the George Clooneys and Tommy Lee Joneses of the world). But as low-budget debuts go, it's an extraordinary effort, and certainly fascinating as a slice of movie history.
Grade: B+
Other films 25 years old this month:
Avenging Angel
- In 1984's
Angel,
Donna Wilkes played the title character, a high school honor student by day, streetwise hooker at night. Totally awesome, obviously. Well now it's a year later, and Angel has some avengin' to do. In a recasting on par with George Lazenby stepping in for Sean Connery,
Private School
's Betsy Russell wears Angel's high heels this time. And the results, I'm assuming having never seen a second of this, are no less spectacular. Amazingly, two more
Angel
sequels (straight-to-video, natch) would follow, with a different actress each time.
The Falcon and the Snowman
- Sean Penn and Timothy Hutton try to out-brood each other in this true story about All-American boys who wind up Soviet spies. (It goes without saying Penn hired the guy his character was based on, once he had been released from prison. No, really.)
Fandango
- Kevin Costner emerged as a viable movie star in 1985. Of course, it had little to do with this or August's
American Flyers
(grossing less than $2 million combined), and more to do with his star-making turn in
Silverado
. Judd Nelson joins Costner in this one, and would go on to have a great year with
The Breakfast Club
and
St. Elmo's Fire.
Here Come the Littles
- Remember those creepy hare-lipped gophers who had their own Saturday morning cartoon? Yeah, there's a movie. Who knew.
The New Kids
- January 1985 was apparently James Spader Month. In this pseudo-horror flick, he terrorizes innocent high schoolers in a theme park. See, it's the flip side of the
Tuff Turf
coin - the dickhead terrorizee is now the dickhead terrorizer! What range! The silver lining: one of the teens is Lori Loughlin, who obviously made a deal with the devil to
stay as stupid hot
25 years later.
The Perils of Gwendolyn in the Land of Yik Yak
- Silly me. When I typed the title - which I'd never heard before - I assumed this was some cheapo, cheesy, Don Bluthish kiddie cartoon about a girl who runs through a gumdrop forest and fights a mean witch on her way to spend the holidays with Grandma. Nope, BOOBFEST. Tawny Kitaen, only a year after
Bachelor Party
, flaunts her wares throughout this - seriously - R-rated Indiana Jones ripoff. Praise be to Netflix for having this movie (now renamed simply
Gwendolyn
) in stock. I'll be in my room.
That's Dancing!
- In the days before Netflix, Youtube or even VHS, studios would occasionally release a glorified clipshow to theaters. Basically, you'd have a few hosts - Gene Kelly and Liza Minnelli this time, among others - presenting bits from the "golden age" of Hollywood. This one, following 1974's
That's Entertainment!
and 1976's
That's Entertainment Part II
, exclusively focused on dance numbers. As proof this wouldn't work today, the $30 million gross of the first
That's Entertainment
was followed by only $280,000 in ticket sales for 1994's
That's Entertainment III
.
Tomboy
- Betsy Russell is back, giving Spader a run for his overexposed money. Two weeks after avenging as Angel, Russell is a mechanic who yearns to prove she's not just a pretty face. Part of that plan, apparently, includes showing us her jibblies. Sadly, Netflix has let me down this time. (Kudos to Russell, though, for still being hot and getting work in a few of the
Saw
movies).
Quarter Back: December 1984
Quarter Back: November 1984
Quarter Back: October 1984
Quarter Back: September 1984
Quarter Back: August 1984
Quarter Back: July 1984
Quarter Back: June 1984
Quarter Back: May 1984
Quarter Back: April 1984